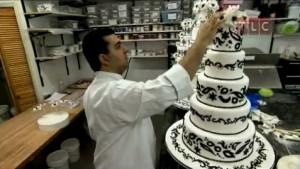 Just starting to work with brides as a wedding planner? Celebrity cake designer, Buddy Valastro, TLC's "Cake Boss," spoke about working with brides in the current, October 2011, issue of Brides magazine. With all the fabulous cakes he has designed, many of which have appeared in the pages of Brides, he feels his greatest achievement as a cake designer is that he is a good listener. He listens to the bride's ideas and makes them come to life, he doesn't make the decisions about what she should have. Something you need to keep in mind also.
Here are 3 additional tips you can pick up from the interview with Buddy:
1) It's important to give the bride what she wants
Buddy likes brides to have their own visions. He likes to see details such as the dress and the invitation so he can give them the cake that they want, not just a cake that he has designed.
A bride may not have chosen a dress or invitation before meeting with you, so you will need to ask her the questions that will help her explain her wedding vision.
2) Be calm when brides are stressed
Buddy has never gotten any bridezillas. He can sense when brides are starting to get too stressed and feels it's his job to make them feel unstressed.
Remember that brides hire you to help relieve them of the stress of planning a wedding so, like Buddy, try to be easygoing and cooperative when you know the bride is feeling overwhelmed.
3) The most important person to please is the bride
He has brides bringing their grooms, mothers, and others to their meetings. He listens but focuses on what the bride wants.
Be sensitive to the comments of others, especially since they may be helping the bride pay for the wedding, but work with them to point out that it is the bride's day and she is the one who needs to be happy with the decisions.
You can read more of Buddy's comments in Brides. You can catch "Cake Boss" on TLC.