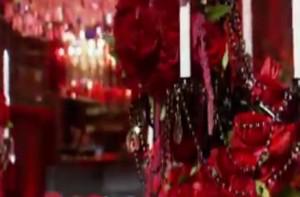 If you're like most wedding planners, your brides will want weddings that probably don't veer too much tradition. But you might come across a bride who wants something totally unique, like celebrity wedding planner David Tutera did with his Goth bride on his television show, "My Fair Wedding.
This non-traditional bride had been planning a small, 20-guest, Goth wedding in her home. The decor was mainly black and included skulls and spiders. She told David she didn't want it to look like Halloween, but that is exactly how her decor came across.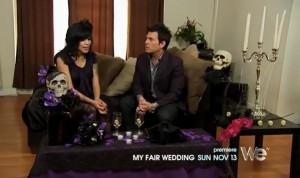 David took her Goth theme and turned it from a very black and sad-feeling wedding to a unique, edgy, romantic event that included all of her family. 
He first changed her dress and the dresses of her bridesmaids and flower girl - they were all in black!
The bride ended up getting a unique dress that she loved. It was an asymetrical white and black plaid dress with black lace (seen in a photo below from the Cymbeline website) which she wore with a black veil.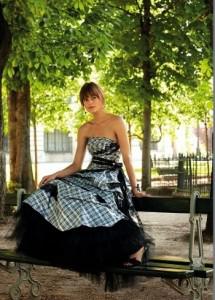 The wedding ceremony took place outdoors, under a tent of sheer white and black fabric on the rooftop of Palihouse. Guests were seated in white chairs that were draped with black sashes.
(David's Tip – For an outdoor Goth wedding, choose a space that is dramatic, historic, or has a stone archway for a grand entrance.)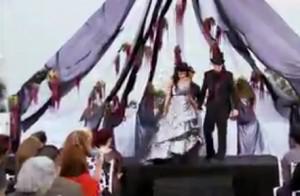 The reception venue,La Boheme, was decorated in reds and blacks. Tableclothes were shades of dark reds with black lace overlays (below), centerpieces were black iron chandeliers with deep red flowers and candles(see photo at the top of this post).
(David's Tip – For a Goth wedding, look for stained glass, velvet chairs and fireplaces at an indoor venue. For decor, choose dark colors that don't clash with the venue, black, midnight blue and dark greens, maroons, and reds. Flowers should be exotic; orchids, dahlias, black magic roses, and eggplant colored calla lilies.)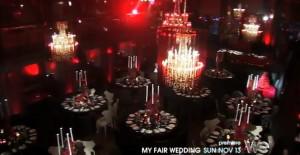 The cake, by Cake Divas of Los Angeles, was black fondant decorated with red, purple and black flowers that looked like the paper flowers of the Victorian era.
(David's Tip – Red velvet and chocolate are good flavors for cakes for this theme.)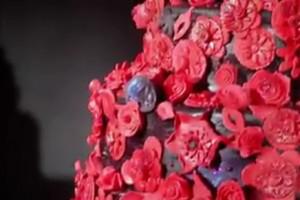 Goth might not be your style but if, like David, you open your mind and can understand the bride's vision, you can make a Goth themed wedding a romantic and fun event.