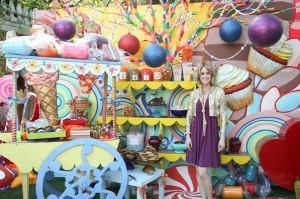 Celebrity wedding planner Diann Valentine believes in doing everything in a big way. On her current WEtv show, "I Do Over," she gives couples, who have had disastrous weddings, second weddings that are beyond their wildest dreams.
The ideas that she and her team execute, although perhaps more extravagant that what you might do for your brides and grooms, will give you ideas that will help you make your couples' weddings more memorable.
In a recent episode, Diann redid the wedding of a couple whose February 2010 outdoor tented wedding in Southern California had been ripped apart by the rain and winds of a tsunami. At their first wedding they had planned a sweet dreams candy bar but because of the weather, it never got set up.
Staying true to her belief  "go big or go home," Diann, with the help of her sponsor, celebrations.com, created an entire candy environment. The candyland lounge (see photo above with Cheryl Dent, the designer) had jars filled with 200 pounds of assorted candies, platters of cupcakes and other baked sweets, and bowls of candied popcorn. Guests could fill bags with candy to take home with them.
While your bride may not need to fill a room with 200 pounds of sweets, think beyond just a table of candy. Design, or work with an event designer to design, a fun, visual experience for guests. You can select candy that follows the color palette of the wedding. Or, do a retro candy table and fill it with candy from the 50's or 60's, you can find companies on the Internet that sell candy from different eras. A visual tip from the show, Diann's staff unwrapped the individual pieces of candy so they were easy to see in the displays.