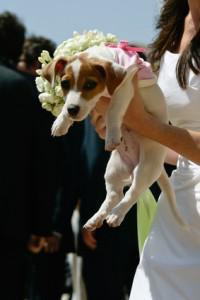 Are you planning a wedding for a couple who wants to include their dog? A friend gave me a recent issue of the magazine, The Bark, that featured tips for including dogs in weddings that will help you when your couple wants to include their canine family in their big day.
Here 5 tips for wedding planning when a dog is involved:
1) First a tip from me – don't plan a wedding with dogs if you don't like them
I'm a dog "parent" and can always tell when some is afraid of dogs or doesn't like them. It will be difficult for you to manage a wedding party that includes dogs if you are not used to having them around you. You may not have the patience and you may not be aware of all of their needs. Partner with a wedding planner or hire an assistant who has experience working with dogs, besides their own, and have them help you.
2) Suggest wedding vendors who have worked with dogs
The photographer in particular should have experience working with dogs so they know how to help the dogs to appear their best. Your bride and groom may want their dogs to be in their engagement photos rather than getting them involved in the wedding, if they would not be comfortable at a large event.
The officiant should be a dog lover if the dog will be with the bride and groom during the ceremony.
3) Fit the job to the dog
Not every dog is cut out to be the ring bearer wearing a doggie "tuxedo" or carry a basket of flowers down the aisle wearing a doggie "flower girl" outfit. Encourage your couple to select involvement that keeps the dog's personality and comfort in mind. This might mean just making a brief appearance at an outdoor wedding reception, if it is not too hot. If the couple do plan to use their dog in their ceremony, make sure you include him or her in the rehearsal.
4) Make sure the bride picks a dog handler for the wedding
There should be plans in place for someone to look after the dog at all times, taking him or her for a walk, making sure he or she gets water, keeping the dog away from the food tables and the cake and taking him or her home when appropriate.
5) Don't expect perfection
Dogs can be unpredictable so even if the dog walks calmly down the aisle during rehearsal, there is no telling what he or she might do at the ceremony. This is when the dog handler may have to step in and help by calming the dog or taking him or her to a calm, quiet place.
Dogs are family members to many brides and grooms so it is not unusual for them to want them to be included in the wedding day. Just make sure you plan appropriately so the bride and groom can enjoy their day with their furry family member.
I've written other posts about having dogs in weddings. A favorite of many readers is the pug themed wedding that celebrities Tori and Dean planned that included a couple's two pugs.
You can read more about having dogs in weddings on The Bark website.