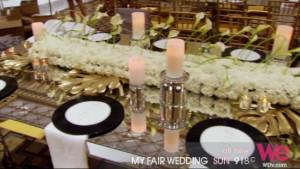 Planning a wedding for a bride who always wanted to be a popstar? Celebrity wedding planner David Tutera did just that recently on his television show, "My Fair Wedding."
The bride and her fiance had met in Motown, Detroit, Michigan. They loved Motown music and wanted to feel like pop star royalty on their wedding day (think Diana Ross and Michael Jackson).
Tip – Selecting a theme that has a meaningful connection to the bride and groom is a great way to personalize a wedding.
The bride had gathered a mix of gold, silver, and pink items and a Michael Jackson silver-sequined glove to use as decorations at her wedding.
Tip – Stay away from party store items when carrying out any theme.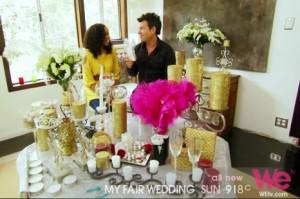 As usual, David took over, replacing not only the dresses of the bride and bridesmaids but also the venue and decor.
He changed the venue to the Hollywood Roosevelt Hotel, the site of the very first Academy Awards celebration. The ceremony was held in the lobby of the hotel.
Tip – Think creatively and don't forget to check spaces in the hotel besides the traditional ballrooms. However, if you do select a public area, make sure it can be made private for the wedding.
He chose gold, platinum, and white as the colors for the wedding.
Rows of gold chairs alternated with chairs covered with platinum chair-back covers. In keeping with the color scheme, the stage was covered with white fabric.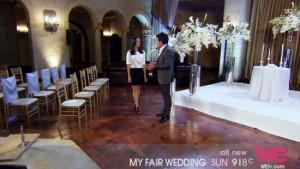 The flowers were white with gold and platinum accents.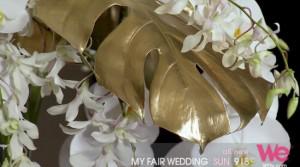 Different designs alternated throughout the tables.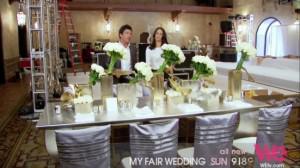 All designs followed the gold, platinum, and white color scheme.
Tip – Alternating table designs will make the room look interesting, but stick to the same colors and basic styles or the room will look like it was decorated for different weddings, not one.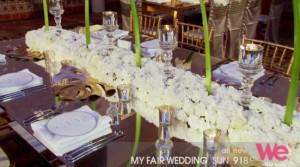 David had a fabulous mirrored dance floor custom created just for this wedding.
Tip – Don't think that there are only wood dance floors. If you need to rent a dance floor, ask the rental company if they can provide floors that can be covered with a custom design or made of other materials.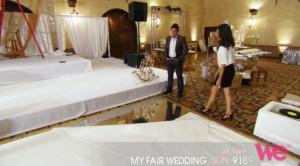 You can lean more about the vendors who helped dsign this wedding on the WEtv website.
.