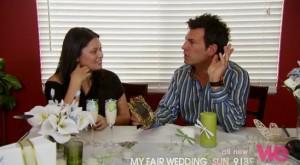 The dragonfly wedding theme is not new but when celebrity wedding planner David Tutera planned a dragonfly wedding on his WeTV Show, "My Fair Wedding," he took it to a whole new level. He added a feeling of whimsy and magic and gave the bride a fairytale wedding that was much more beautiful than she could even have imagined.
The bride had not yet selected her ceremony site and had planned to have the reception in her own backyard. David moved the entire event to the Calabasas Inn. Although it is already a beautiful location with trees, gardens and a waterfall, he had the florist bring in rose bushes and plants to make the site even more lush.
Tip – add flowers and plants to an outdoor space to make it suit your bride's theme.
The ceremony was set outdoors, guests were seated on mahogany chairs with lavender cushions. Programs, printed on green paper, hung on ribbons from the backs of the chairs.
Tip – tying the programs to chairs is a great alternative to placing them on the seats where they can fly away.
When it came time for the outdoor reception, the chairs were moved to the dining tables and the lavender cushions were switched to white ones that matched the white lace napkins and white candles that were on each table.
Tip – switching cushions gives a different look without the cost of renting additional chairs.
The long dining tables themselves were positioned around the dance floor. They were covered with lavender underlays and lavender sequined overlays.
To give the guests the feeling of that they were sitting in a garden, there were no cut flowers anywhere at the reception.
A "garden" of rose bushes, flowers and moss decorated the centers of each table.
Tip – if your bride wants to use plants for centerpieces, she might be able to rent them or she can select plants that can be given to guests as favors. 
The cake had a garden theme and was decorated with dragonflies.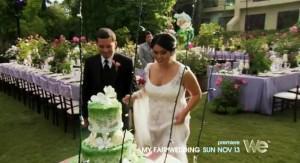 To give the wedding the whimsical feeling, David had wonderful costumed showgirls walking among guests, a garden nymph, a purple fairy in a "glamour sphere"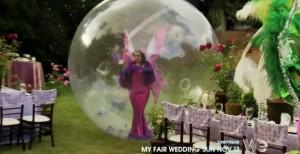 and a 9 foot tall gold candelabra "glamazon."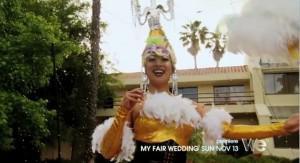 Tip – a couple shouldn't be afraid to give their wedding a feeling of fun and magic if that is what helps them express their personalities in their wedding.
What would you do if you had a bride who wanted a dragonfly themed wedding?