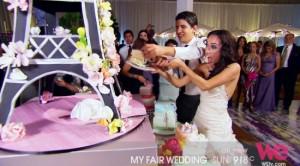 When planning a Paris themed wedding, celebrity wedding planner David Tutera's bride on his television show, "My Fair Wedding," had gathered everything that was French, including a collection of assorted Eiffel Towers and a set of ceramic French poodles. She had been going for the Paris/Marie Antoinette couture/love/romance theme.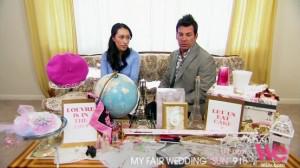 David talked to her and got to the heart of what she wanted her wedding to be like, which was "Springtime in Paris," and what she wanted to celebrate, which was not only the love she and her fiance had for one another but also being able to eat cake. She had been battling anorexia and her fiance did not want to have a wedding until she was well enough to enjoy cake on their wedding day.
Tip – When a bride tells you her theme, help her to focus and bring out the key elements of what is important to her to make it personal and meaningful instead of just a collection of decorative objects.
David set her ceremony and reception at theHyatt Regency Orange County. He draped the rooms in white and hung lights, making it look like the city lights of Paris.
Tip - Draping and proper lighting can  transform a space, helping the focus be on the decor in the room and enhancing the theme and colors of wedding.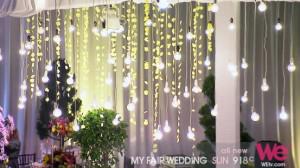 The ceremony area was decorated to make people feel like they were walking down a street in Paris.
Tip – The bride doesn't have to wait until the reception to express her theme. Incorporating elements into the ceremony helps set the mood for the entire event.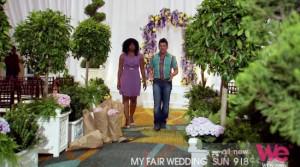 The reception centerpieces were explosions of Spring flowers.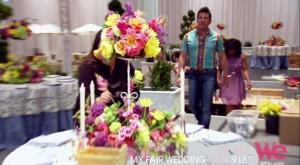 One area of the reception space was set up with tables and umbrellas that made it look like the cafe tables on the streets of Paris. An artist was positioned here to draw caricatures of guests while another artist painted a large portrait of the couple.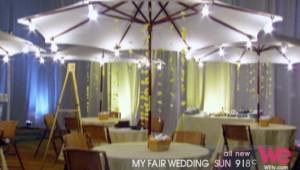 The dance floor was covered with a recreation of Monet's "Waterlilies."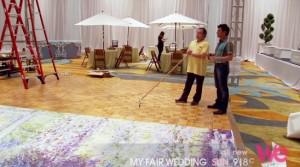 There were 15 smallwedding cakes surrounding one magnificent Eiffel Tower cake.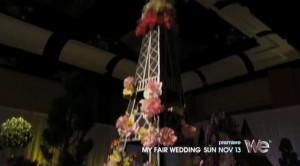 It was covered with edible peonies, the bride's favorite flower.