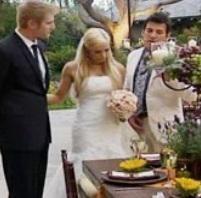 Can a wedding design go wrong  after selecting a theme? Yes, definitely, as celebrity wedding planner, David Tutera, saw when he met his "My Fair Wedding"  bride who had plans for a Tuscany, Italy and wine themed wedding.
The bride and her mother had been to Tuscany and loved the land, wine and the rustic feeling of the area. They attempted to recreate it in their wedding design and had purchased items in ivory, gold, fuchsia and mandarin orange and put the bridesmaids in mango/orange ruffled dresses.  David saw that they were headed in the wrong direction – the fuchsia and orange colors were not Tuscan. He was further convinced they were veering too far from their theme when he saw the venue, it was a beautiful country club, but it didn't at all look like Tuscany.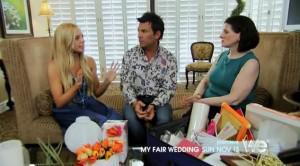 (Tip- do your homework. David had been to Tuscany and was familiar with the colors and ambiance of the area. If the bride has selected a theme which you are not familiar with, take the time to learn all you can so you can help make the theme authentic.)
David changed the bridesmaids out of their mandarin orange dresses and into merlot/pinot noir-colored fitted strapless dresses from Anna Elyse Bridesmaids.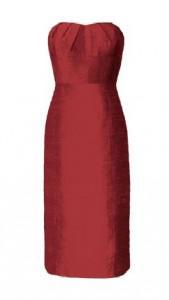 To give the wedding the real Tuscan feeling the bride had wanted, David changed the venue to the Church Estates Vineyards, which has been the scene of many celebrity weddings, including Black Eyed Peas singer, Fergie and singer Natasha Bedingfield, and he had also used it last year for his Butterfly Bride.
(Tip – help the bride keep the theme in mind when selecting the venue. Hotels and country clubs, in particular, usually have a distinctive style that may not work with the theme or the color scheme the bride wants.)
Although the venue was beautiful, like many outdoor venues, everything had to be brought in, the tables, chairs, linens, centerpieces, flowers, place settings, electricity, lighting, restrooms, and a  full kitchen for the catering. In addition, David brought in 15 foot tall cypress tress that he had decorated with sunflowers and lavender to add color.
(Tip – Remember to ask what is included when selecting an outdoor venue. When everything has to be brought in, the costs could skyrocket, making the venue too expensive for the bride's budget.)
Th cake, designed by Jamaica's Cakes, was decorated with grapes and sunflowers, like the table centerpieces, and sat on a wine barrel.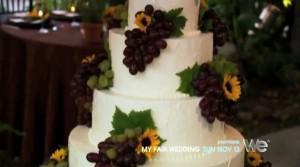 (Tip – it's the little details, like placing the cake on a wine barrel, that really stand out to a bride and her guests.)
The happy couple were overjoyed by the work David did for their wedding.