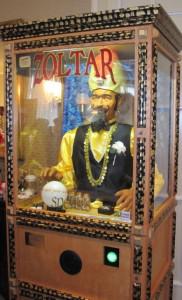 Here's another idea from one of the vendors at the San Francisco Wedding Fair.
Photobooths were one of the top trends for weddings in 2011 and will still be a popular attraction at many weddings this year. But what will guest do when they are waiting for their turn?
One photobooth company at the fair, Photo Booth US, also rents out games. While your bride doesn't necessarily want carnival and arcade games at her reception, unless these things would work with her wedding theme, a fortune telling machine, in which she customized the messages, might be fun amusement for guests waiting in line for a photobooth opportunity or a cocktail.
You can find this machine and others like it at party, prop, and game rental companies.