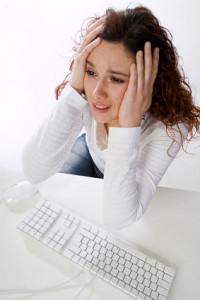 You probably back up your computer everyday because you don't want to lose information about your wedding planning business, the weddings that you plan, or your brides.
But have you backed up your website? Do you regularly back up your blog? How about your Facebook profile?
You spend a great of time and energy writing content and posting photos online to market yourself, so you need to make sure you have copies of your sites. If a site comes down because of an error made by your web host, your site gets hacked or hit by malware, or, like me, you try to add a plugin to your blog and you crash it, you need to be able to get up and running as soon as possible!
To back up your website you can download a free copy of FileZilla and download all the files to the hard drive on your computer. If you can't do this yourself, your web host can tell you how to back up your site or ask your webmaster to help you. (I always call my webmaster, Toolie, she has helped me out of many jams.) 
Regarding your blog, if you are on Blogger, you can go into "Settings" and "Export your blog" and download a copy to your computer.
If you have a Wordpress self-hosted site, there are many plugins you can install that will automatically back up your files according to your schedule.
For Facebook, you can request a download by going to Account then Account Settings using the top right menu.
Scroll down to Download a copyof your Facebook data and click on it. On next page, read the information on the page and click on the Start My Archive button.
Facebook will send a download link to the email address associated with your account. You click on the link, enter your Facebook password, and click on the Download button to download a zip file that has all of your Facebook profile information.
You can also use a service such as Backupify that allows you up to back up three social media accounts for free.
Don't risk losing your hard work, make and keep updated versions of all of your online information.