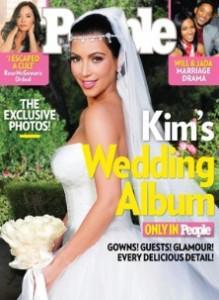 As a wedding planner, you'll probably want to pick up the latest issue of People magazine to learn all about celebrity Kim Kardashian's multimillion dollar wedding to NBA pro Kris Humphries. Although most brides you plan for won't have this kind of budget, they may want to "steal" ideas from Kim's wedding.
Here are details from the wedding, planned by Sharon Sachs:
Theme
-"Old Hollywood" Black and White
Wedding Attire
-Kim had three custom dresses designed by family friend Vera Wang. She wore a tulle-skirted ballgown for the wedding, a georgette mermaid gown for her first dance (the style of the dress made it impossible for the couple to perform the carefully choreographed dance they had practiced) and an "Old Hollywood" style bias-cut crepe satin gown for the reception.
-Kim's jewelry was by Lorraine Schwartz. She wore a veil with a 65-carat diamond headpiece, 28 carat diamond earrings, her 20.5 carat engagement ring and a diamond bracelet, a knot with two "K"s which was a wedding gift from the groom.
(Your bride's jewels don't need to be real. There is plenty of high-quality fashion jewelry that will give your brides a similar look.)
-Kris wore white tails for the ceremony and a black tux for the reception.
-The bridesmaids, Kim's sisters, wore strapless ivory Vera Wang gowns.
-The ring bearer wore a custom white tux.
-Both the mother of the bride and the mother of the groom wore white. The fathers were in black tuxedos.
(Your brides may become interested in having their entire wedding party in white after seeing this look.)
Flowers
-By Mark's Garden in Los Angeles.
-The flowers were all white. The aisle was lined with citrus trees full of white roses and hydrangea.
- The bride carried a bouquet of white Polo roses in a cuff of silk ginko leaves.
-The bridesmaids also carried white bouquets.
(If your bride wants to carry flowers that do not distract from the beauty of her dress, she should definitely consider carrying a white bouquet.)
-Centerpieces at the reception were white flowers in crystal vases.
Food
-By reknown chef Wolfgang Puck, the menu included heirloom tomatoes and mozzarella, hand-made truffle pasta and roasted herb chicken.
Music
-The first dance was "Angels" performed live by Robin Thicke.
- Earth, Wind & Fire performed at the reception.
Wedding Cake
-Created byHansen's Cakes, the cake, which can be seen on their blog, was 6-feet tall, made of 8 tiers of octagonal cakes. Two tiers were frosted black but others were the traditional white.
-The flavors were marble cake and chocolate butter creme with white chocolate chips and vanilla with chocolate chip filling.
-The cake sat on a Lalique crystal table.
Wedding Favor
-Custom Voluspa candles with the initials of the bride and groom.
People magazine had exclusive rights to the photos from the wedding and feature a lot of the details so take a look and get inspiration for the wedding that you plan.