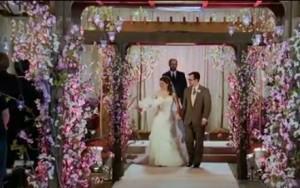 On the season 5 premiere of "My Fair Wedding," celebrity wedding planner, David Tutera, fulfilled a Make-A-Wish Foundation wish by a teen-aged boy, Ryan, who wanted David to go to Kansas to plan his mother's wedding.
Within six days of arriving, David, with the help of his staff and many Make-a-Wish Foundation volunteers, was able to give the bride the wedding of her dreams.
The bride had originally had a theme which included 1000 origami cranes (symbols of happiness, peace and prosperity). She wanted a spiritual, peaceful feeling to her wedding and a decor that included weeping cherry blossoms and a long aisle with trees along the way.
David made her indoor venue look like a serene, organic outdoor space with pergolas,  trees and the cherry blossoms the she wanted.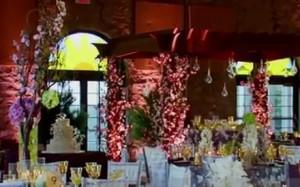 Here are 5 of David's tips for bringing the outdoors in that you might want to use for your brides:
1) Rent plants and trees rather than invest in additional flowers to transform a space and make it look more nature-inspired, they are also more affordable than flowers
2) David banded together both real and silk cherry blossoms when decorating the pergola to make the arrangements more lush (make sure you are using good quality silk flowers that look real)
3) For an evening wedding, add twinkle lights to the trees, accent foliage with uplights, and hang glass-enclosed candles from the tree branches (check to make sure the venue allows open flames)
4) Use trees along the aisle to define it and act as markers along the bridal path
5) Define sections in your venue with tress – separate the ceremony, cocktail and reception areas
Bringing the outdoors is in very popular today, especially since trees were brought into Westminster Abbey for the Royal Wedding of the Duke and Duchess of Cambridge.
In the video below are scenes from the show where you get to meet Ryan and his mother and see some of David's designs. 
Click here to view the embedded video.