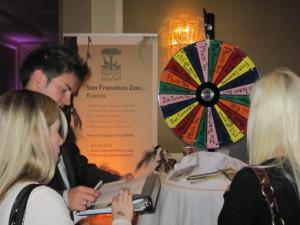 When you attend wedding fairs and bridal shows you can pick up many ideas, not only for planning weddings but also for planning your own booth when you are an exhibitor at a fair or show in the future.
When you become an exhibitor, your main goals will be to attract potential clients to your booth, sign up them up for appointments, and collect contact information so you can market your services to brides after the show is over.
TheSan Francisco Zoo had a fun way to accomplish these goals at the San Francisco Wedding Fair. They asked brides to provide their contact information for an opportunity to spin their prize wheel (you can rent one at a party rental store or prop house). The wheel had small prizes, such as a nail file and a plush toy, in addition to bigger prizes such as 15% off venue rental and a free ceremony. Because every bride who provided their information would win something, more brides were interested in providing contact inforamtion than booths that offered only one prize. Now the zoo has grown their list of brides they can market to in the future.
The other side of the exhibit booth was a large screen featuring a slide show of photographs of weddings that had been held at the zoo and two staff members who were talking to attendees about the benefits of their venue.
Take a cue from this busy booth and find a creative way to attract brides and have them willingly provide their contact information to you. (Be sure they know you'll be sending them emails or you'll be considered a spammer.)
Absolutely do not think you can get clients by renting an exhibit booth and sitting or standing behind a table with a stack of brochures and a small laptop with photos from your weddings. You will not attract many brides this way. Get out from behind the table and engage with attendees. Set up your space in a way that shows off your style. If you need a centerpiece, ask a florist to provide a striking arrangement in exchange for placing a sign in your booth. If you want to show a video or slide presentation on a screen, use a large one that will draw attention from across the aisle.
And you can get more help with exhibiting with my downloadable Action Guide, Exhibiting at Bridal Shows and Wedding Expos. It includes the information you need to market your services successfully and an exhibit-day checklist so you're prepared on the day of the event.