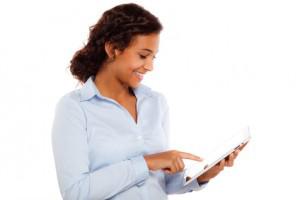 Now that you can send and receive email not only on the computer in your office but also on your smart phone and tablet, you can easily and frequently connect with brides via email.
Here are 7 tips that will help your emails make a good impression on brides:
1) Fill in the "Subject" line with a statement that reflects your content and influences the bride to open your email
The subject line is the first thing a bride sees in her inbox so make sure it captures her attention. Please don't leave this line blank, it might send your message into "Junk Mail" or make a bride delete it before she reads it because she thinks it's spam.
2) Use an appropriate greeting
Don't  launch right into your subject, start with a greeting. You want to be professional, but friendly, so start you email with a salutation such as, "Hi," "Hello," or "Dear" and the bride's name or the couple's names. Greetings such as "Hey," "Hi Guys," or "Hey There" are too familiar and inappropriate for use in business.
3) Don't write in all lower case or all upper case letters
All lower case looks too casual and all upper case makes it look like you are shouting. Both make it appear that you are not taking the time to write seriously.
4) Stick to the topic
Don't ramble. A bride doesn't have time to read a long email with information she doesn't need. If you have a lot of information to give, call her.
5) Check your spelling
Make sure you have correctly spelled the bride's name and run a spellcheck on the body of your email. It's easy to have typos, especially if you're writing from your phone.
6) Mention the next step
If you, or the bride, needs to take action after the email, mention what happens next. Are you going to contact her with additional information? Should she contact you? Tell her what she can expect or what she needs to do.
7) Have a sign-off
Choose something that matches the subject and tone of your email and your professional personality such as, "Best Wishes," "Kindest regards," "Warmly," or "Thank you for this opportunity," and don't forget to sign your name.
Email is a great way to stay in touch with a bride, use it as an opportunity to impress her with your great email communication skills.