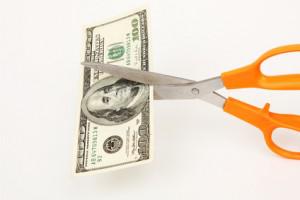 Brides expect wedding planners to know how to help them manage their wedding budgets and trim costs. If you are a new wedding planner and not yet aware of all of the ways to do this, you might want to pick up the January/February 2012 issue of Bridal Guide magazine. They offer 50 tips on cutting costs that might help your brides.
Here are 5 cost-cutting tips you might want suggest:
1) Hold the ceremony and reception at the same venue
This eliminates the cost of shuttling guests from one place to another and you might be able to negotiate a better deal with the venue.
2) Find a venue that doesn't need a lot of decor
A garden, museum, or a location with a spectacular view doesn't need a lot of additional decoration and may help the bride's floral budget.
3) Compare the cost of a sit-down meal versus a buffet
Contrary to popular belief, buffets are not always less expensive. Caterers are unable to predict how much food guests might serve themselves so they prepare more food than they would for a seated meal.
4) Choose wedding favors or centerpieces that can do double duty
Small frames that can hold table cards can be favors. Small plants that are grouped to be the centerpiece then can be taken home. Cupcakes on tiered platters can be centerpieces that guests can eat as dessert.
5) Keep you bride and groom on schedule
Your couple could incurr overtime costs if they keep a limousine driver, band, DJ or other wedding professional waiting. Overtime time can be as much as time and a half or double time. This can add up quickly if a lot of vendors are involved.
Learn more great wedding tips in the magazine.