This was the only thing I wanted to go to the St.James Cuenca Bazaar for, seriously.  I was frustrated when I couldn't find the booth on the first day.  Blogger Brigitte of iambrigitte.com, or @iamsutil / @BeautyProPH on Twitter, has released her own line of eyeshadow palettes, and I must say the quality of these eyeshadows is nothing short of amazing.  It is so difficult to find good quality, brightly colored, matte eyeshadows.  These, for me, exemplify the standard of what matte eyeshadows ought to be.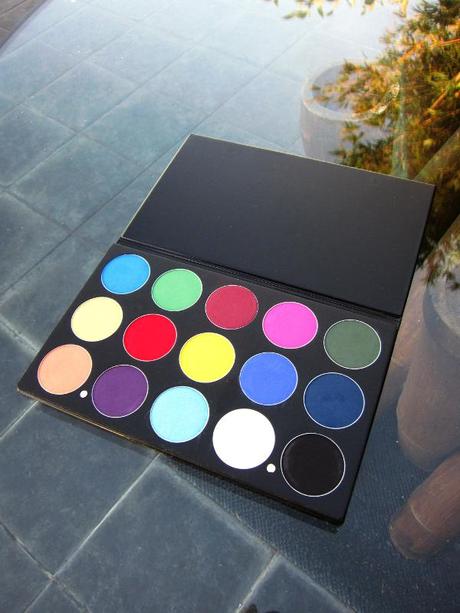 According to Sophie of Beautynomics.com, business owner for Charm Makeup tools and avid supporter of Brigitte, Kim Chiu's sister actually purchased one of these palettes recently at the Rockwell Moonlit Bazaar.  There are currently two palettes to choose from, the Sweet and Smoky palette that Kim Chiu's sister purchased, which is a collection of warm neutrals like the Naked palette, and an eye-popping bonanza of bright colors which is this one, the Beauty Pro Crazy Colour Palette.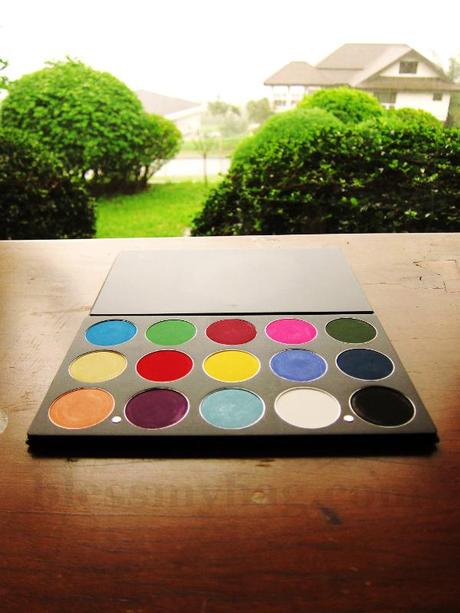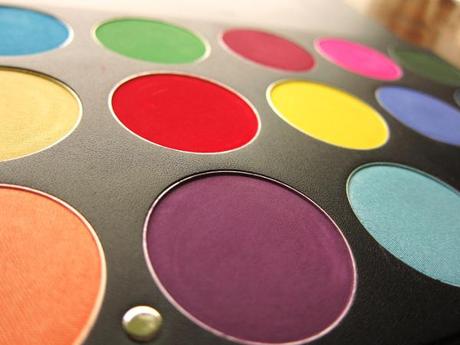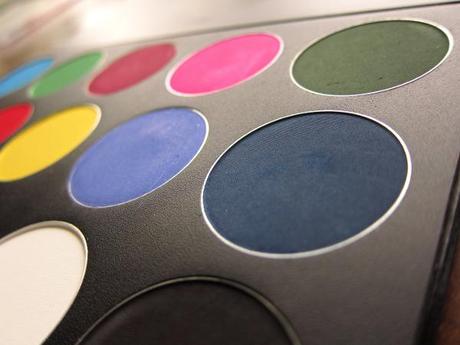 Read more to get the names of these shades and see quality swatches up front, plus I've provided a quick eye look to test the blending quality.
In the Crazy Colours palette you get 15 colors and each probably match the size of a Make Up For Ever single eyeshadow.  The textures however are softer, finely milled velvety powder, they're more like INGLOT Eyeshadows which I can testify to personally because I have an upcoming review on an Inglot palette I was allowed to photograph locally.  Here's proof that I honestly know what I'm talking about and it also serves as a sneak peek of an upcoming review.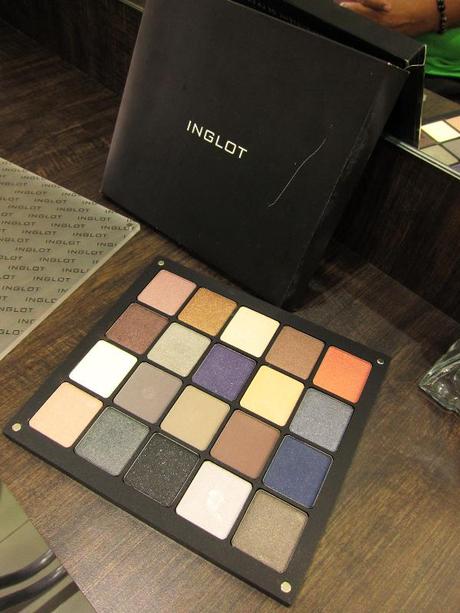 Inglot eyeshadows give a blast of color pay off but with significantly less fallout than that of Make Up For Ever's eyeshadows, believe me I know because I studied for 2 weeks with the MUFE Academy in Singapore and all I did was play with every product we could get our hands on as students.  The Beauty Pro palettes are very close in quality to the Inglot palette I tested.  I needed unique MATTE colors like this in my kit for more avante garde looks since I have a lot of natural shades already, and I can't afford a palette similar to this if it were by MUFE.  A BeautyProPH Palette costs Php1,800.00.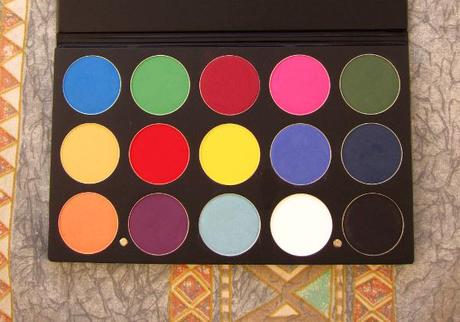 Get ready for some quality arm swatches, all the shades paid off exceptionally well except for the white shade which took more effort to swipe on.  The rest took 2 light-handed swipes each to show for this photo, easy peasy.  All are pure mattes except for Canary Shine and Ice Blue which seem to have have a very subtle pearly finish, Periwinkle has a tidbit of sparkle but it's practically matte still.  I touched the pans with the tip of my finger and goodness, what quality, so smooth, they almost seem creamy.  The fallout is of a different kind from the pans, any stray bits easily get gently pressed back in.  The colors definitely possess a dry finely-milled texture that fool you into thinking they're creamy.
SHADE NAMES Left to Right (I referred to Shen's and Brigitte's pages for the correct names.)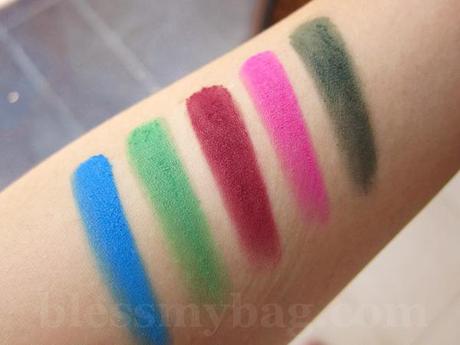 1st Row: Cerrulean Blue | Jungle Green | Brick Red | Barbie Pink | Forest Green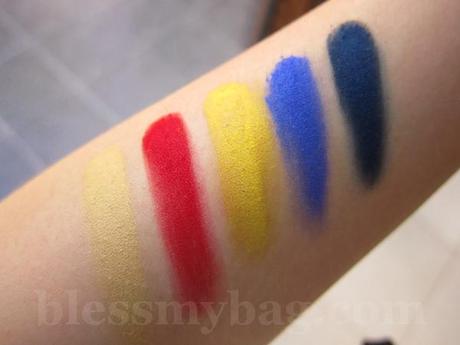 2nd Row: Canary Shine | True Red | Sunshine Yellow | Periwinkle | Midnight Blue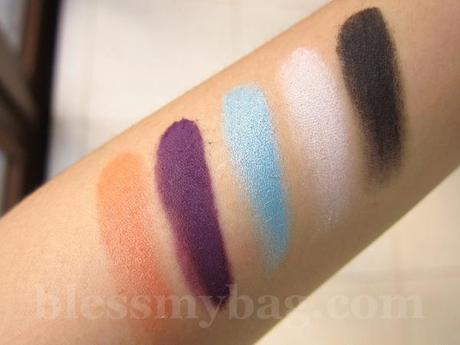 3rd Row: Peach Love | Vivid Purple | Ice Blue | Pristine White | Blackest Black
Here's a shot of the color payoff on a MAC 239 brush with one touch onto the pan of Brick Red, one of my favorite colors in the set.  Also after, one lighthanded pat on my eyelid with the same brush after.  Super pigment, I kid you not.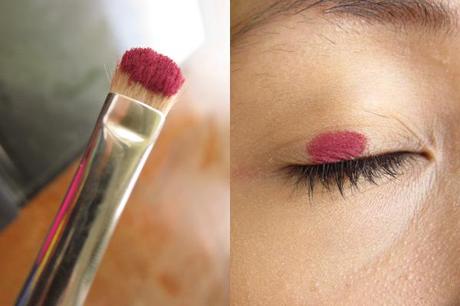 Then I worked on a deep rich smoky eye and worked in some of Blackest Black into the crease and around the outer corner of my lashline over the blended base of Brick Red.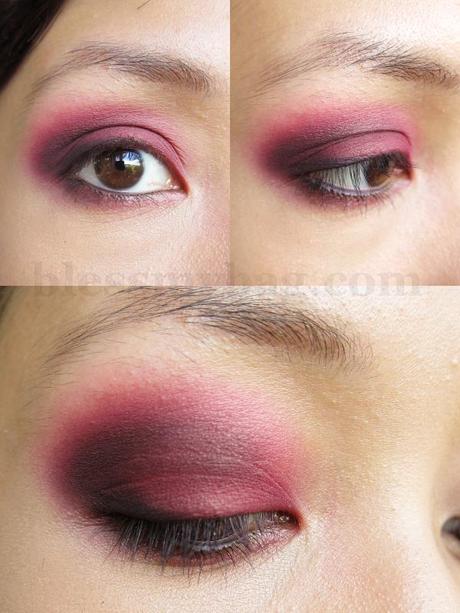 Blending quality is wonderful, you don't take forever to soften any edges and these colors feather out beautifully.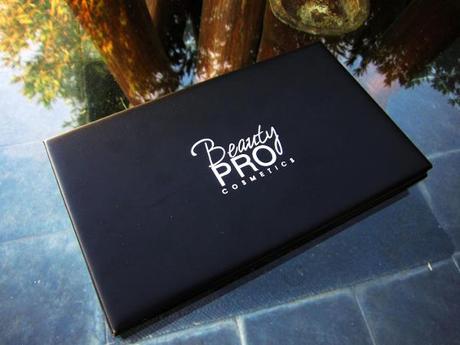 If you're interested in purchasing either the Sweet and Smoky Palette or the Crazy Colours palette by BeautyProPH just tweet Brigitte at the Twitter handles I provided at the top of this post so she can let you know which bazaars they'll be at or show you how you can purchase one directly from her hopefully.