I've recently discovered that working within a shopping center is not a very good thing for my purse at all. If I'm on a break or arrive early to work, I can often be found in a Superdrug or Boots thinking to myself "Oh, I think I'll treat myself to a bottle of nail varnish. One won't break the bank, surely."
Regardless of my current cash (or lack of) problem, I thought I'd share some of the gems I have picked up this week.
Collection 2000 Hot Looks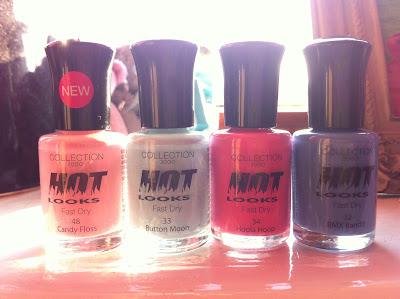 Collection 2000 L - R: Candy Floss, Button Moon, Hoola Hoop, BMX Bandit

I never really paid much attention to Collection 2000 nail varnishes, however when I saw these beautiful colours I knew I had to have a few. I'm excited to try them all out, particularly Button Moon, as it has been hailed as the perfect dupe for Essie's 'Mint Candy Apple'. And I love me some Essie.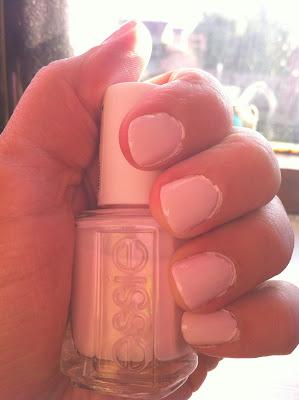 Essie Fiji
Speaking of Essie... I did vow to myself that I wasn't going to spend £7.99 on these beautiful Essie creations again, however, I could not find a good enough dupe for this colour, and I absolutely fell in love with it. Plus, it is a lovely pale color which will go with plenty of outfits, therefore I will use it again and again.
I'm so in love with this color. My manager described it as 'marshmellow pink' which is SO accurate. Now whenever this is on my nails I look down and am reminded of mini pink marshmellows.
Collection 2000 Nail Care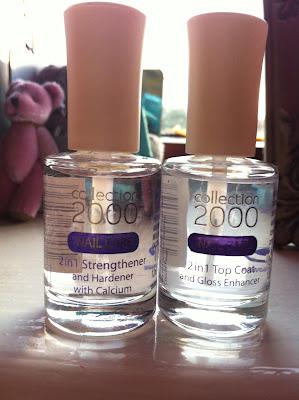 Collection 2000: 2 in 1 Strengthener, 2 in 1 Top Coat
I picked up these little beauties in Boots Sunday as there was a 2 for £5 deal. I've tried various top coats before and all of which have failed me. Particularly Essie's 'No Chips Ahead' (Biggest disappointment...) However, the Collection 2000 is great and makes my nails lovely and shiney.
As for the strengthener, it has worked absolute wonders. I have very brittle and weak nails that are prone to breakages after the tiniest of impacts. After the first coat of the strengthener I could already see and feel a huge difference. I'd say a must have for anyone with weak and damaged nails.
MeMeMe Beat the Blues highligher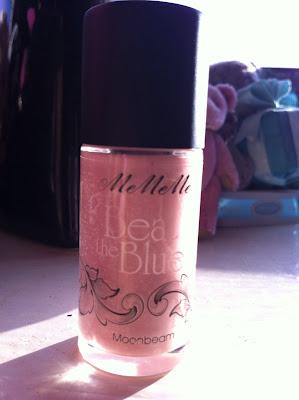 MeMeMe Beat the Blues: Moonbeam
I've seen this product been mentioned a couple of times on beauty blogs and it has been compared constantly to Benefit's High Beam highlighter. It even comes in a 'nail polish' style packaging with a tiny applicator brush.
Here are the blended and unblended swatches: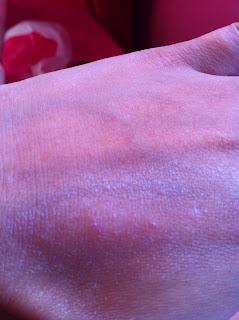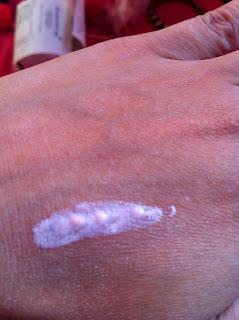 This product gives a really nice subtle shimmer that picks up light perfectly. When applied to my brow bone, nose and cheekbones it really birghtens up my face.
Bourjois Liquid Liner - Clubbing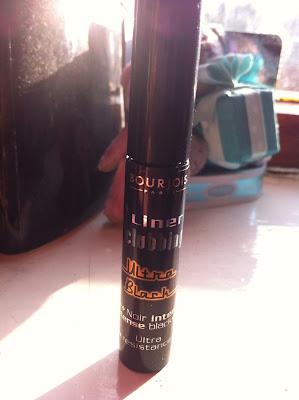 Bourjois Paris Liner Clubbing: Ultra Black
This was another little splurge item, however I have been out of this stuff for a while and unable to replace it. This liquid liner is a staple in my make up bag, as the brush is very thin, which means I can make my liner as sutble or as dramatic as I please. It also stays put for a very long time. I doubt I will convert to any other liquid liner. This is definitely my favorite.
Natural Collection Tinted Moisturiser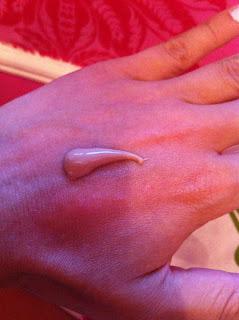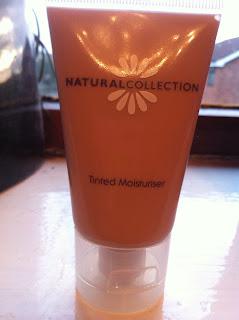 Natural Collection Tinted Moisturiser: Beige
I opted to give this a go, as it is only £1.99 and my skin has been particularly dry recently, plus I am getting sick of wasting all of my nice Bourjois and Une foundation just to nip out to the shops, or go to work. It provides a light sheer coverage, and as you can see the color if very pigmented. However, for some reason on my skin after an hour or two my blemishes are once again in plain sight, so I will have to start carrying this around with me in my bag to reapply. But that being said, it does a great job of moisturising my skin. So I can definitely see me purchasing this product again.

Have you tried any of these products? Let me know what you think! Or have you had a beauty haul recently? I'd love to hear about it. :)