Although I always look forward to the Oscars I am finding that it is becoming more and more predictable each year and dare I say it, safe.
I can almost always predict the style of dresses, make up and hair on the majority of starlets and to be honest I am finding it boring. Also the fact that it was basically a carbon copy of the BAFTAs this year in terms of winners makes me even less enthused to talk about it.
Amongst all the samey-ness there were a few ladies who just got it all right for me, from dress to hair and most importantly make up. So I have decided to dedicate this post to them and not the usual make up trends that to be honest, you have heard me talk loads about already this awards season.
Don't forget to tell me who's look you loved and why in the comments.
Adele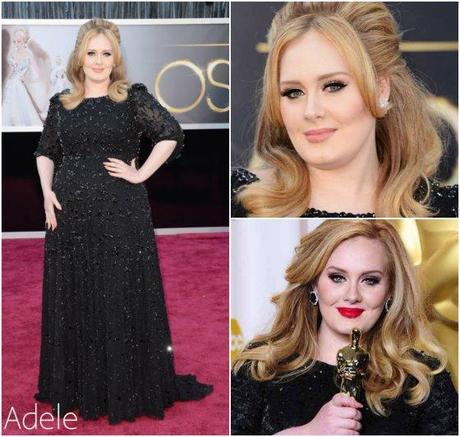 Yes she was predictable but she just looked so beautiful I couldn't miss her out. She wore black, embellished Jenny Packham which looked stunning and although I love seeing her in a different color she always goes back to black. Her make up was as flawless as always, matte yet luminous skin teamed with thick Sixties eyeliner and lashes. For the red carpet and her performance she kept the lips natural and glossy but for her acceptance speech and photos she changed to a daring red lip. I also love Adele because of the amazing contouring she has which is a great tip for us fuller faced girls. I just loved everything about her look and the fact that she left her hair loose for her performance added an extra 'carefree' element to an otherwise very 'Hollywood glam' brief that she was sticking to. Full marks!
Fan BingBing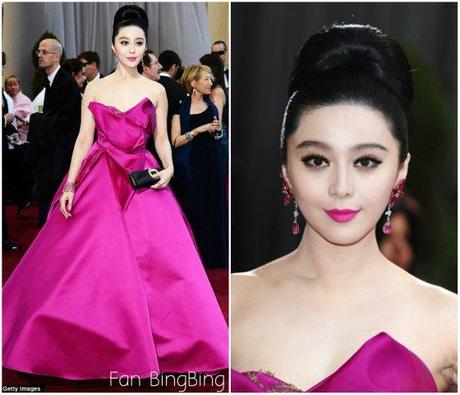 Now, you may not have heard of Ms BingBing so I will brief yo quickly. She is a Chinese actress and singer and often graces a select red carpet in daring couture gowns, you may have seen her at Cannes for instance. I loved her look because it was bright and very uniform. A very matchy-matchy look, Fan coordinated her gorgeous pink Marchesa gown to her eye popping Chopard jewels to her deliciously pink pout. Genius! Her very milky white skin was kept clean and her eyes defined by black liner and fanned (sorry) lashes, so her make up was all about the lips. Her jet black hair just added another contrast and pulled up into a high bun screams chic! Different, colourful and a breath of fresh air, just what the doctor ordered.
Charlize Theron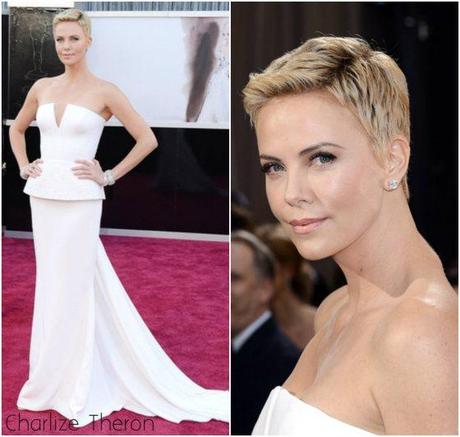 Now, to look at her, her make up might not seem like anything to shout about. But, this look is kinda what I wish I looked like everyday. First off a simple yet elegant crisp white Dior gown (natch) teamed with a new buzz cut from the Mad Max movie she is shooting. I love the hair, it is the edgier more tough girl style of Anne Hathaway's boring mom hair. But her tanned skin is so perfect and glowing it rivals JLo's and everything about it is so soft and feminine compared to her hair, it all just contrasts and clashes and works so well. I love that you know she is wearing makeup you are just not sure what. White hot!
Images courtesy of Getty Images and various online sources.