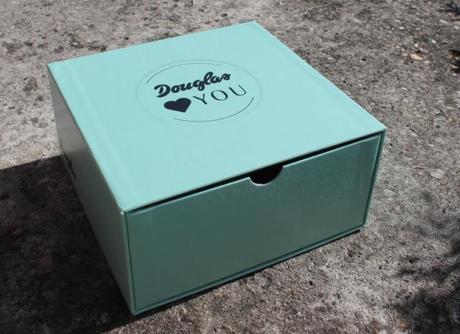 Beauty boxes are not new in the world, however, Croatian girls didn't have a chance to get any as they are not available in our country. I'm really happy that Douglas perfumerie has started this project - a beauty box exclusive to Douglas Beauty Club (which is nothing secret - just fill out the application form in Douglas store).
Douglas ♥ You is not a subscription based box - it is sufficient to walk in the store and show your card to get one. The price of the box isn't fixed - it varies depending on the products you get, but the total value of the box makes it a worth investment, even if you like only a couple of items.
Douglas beauty box is a Douglas blue cardboard box with a drawer-style opening. I like this very much as I plan to buy myself more boxes, stack them one upon the other and create a make-up storage drawer unit.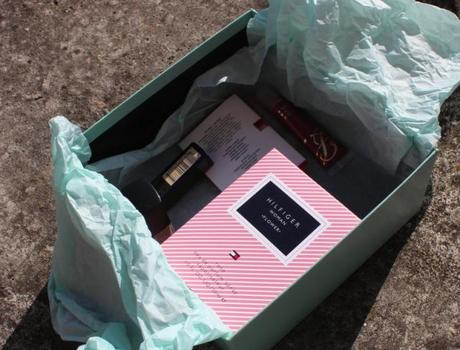 September box contained two full sized items, 2 deluxe samples and one sample plus 10% off an order over 200 kn on douglas.hr on-line store. The box retails for 288 kn (don't hold my word for it b- I threw out the receipt, but this price rang in my head), which is a bit steep for a beauty box, but it offers a nice selection of really high end products.
I don't think I would be tempted by this box if it weren't for a fact that I went on a trip and forgot to take a fragrance with me (this is what happens when you start packing five minutes before you're supposed to leave). First I wanted to buy something cheap from DM (but I didn't like anything) so I was a bit desperate when I entered Douglas and saw the box featuring a full sized fragrance. (Right now I realized that I should have gone to Lidl to get my oldie but goodie Suddenly Madame Glamour - I guess I was too beauty shopping deprived to think clearly).
So, to cut the story short, let's see what you get in your box (if you still can find it).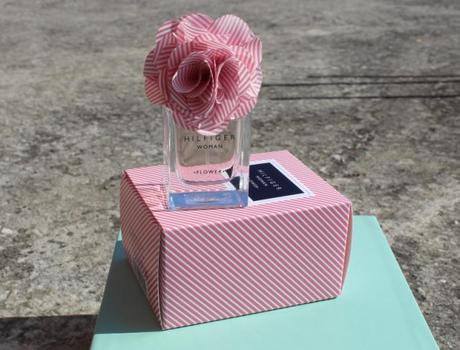 The first full sized item is a fragrance - Hilfiger Woman Flower Rose. The packaging is super adorable and girly and the scent isn't too far either. It is a nice floral scent with a hint of rose and something sweet and spicy in the drydown. While Hilfiger fragrances are not something I'd go to, this was a very pleasant surprise. The full price of the fragrance is over 400 kn for 30ml, so even if you dislike everything else, you'd still get a good value for money.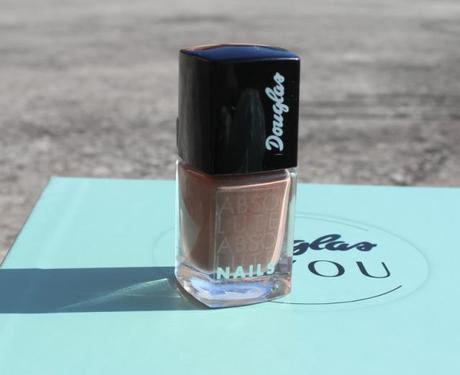 The second full sized item is Douglas Absolute Nails Nail Polish in Elif. It is a basic, slightly warm brown shade. I still haven't worn it, but it looks like a nice transitional shade from non-existing summer to fall.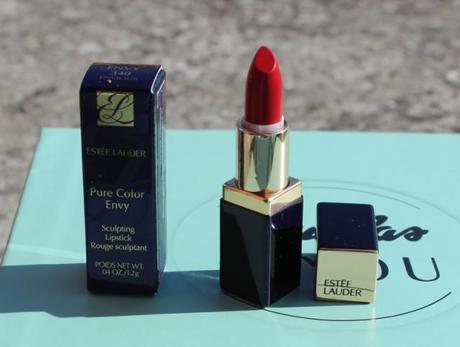 Two deluxe samples are by Estee Lauder. The first is a sample of a Pure Color Envy Lipstick - I got a shade Envious - a beautiful, neutral rich red. The lipstick is pretty pigmented and feels comfortable on my lips. The shade is one of such that seem to be universally flattering. The lipstick contains 1,2 grams of product.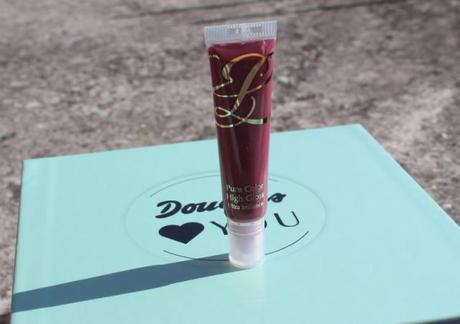 The second sample is a product I was sure I would dislike - Pure Color High Gloss in Berry Lush. It is a pigmented dark purplish pink and I was very sure I was never going to wear it. Imagine my surprise when it turned out that it really suits me. It is another item that will be perfect for fall. You get a generous amount of a lipgloss (7ml), which is almost half the full size. I need to mention that it seems that there are various shades available as I saw one fuchsia in Avenue Mall.
Here are the swatches: lipstick on the left, lipgloss on the right: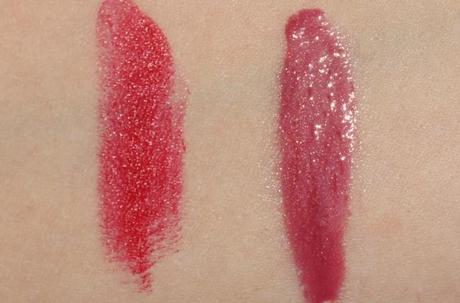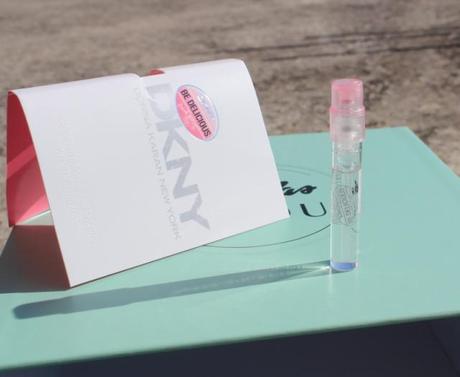 A mini sample is DKNY Be Delicious Fresh Blossom fragrance sample vial. I haven't tried it yet.
Overall, I'm really digging this box - it has a good value and a nice selection of products. If they continue being so good, I might get addicted. Another bonus is that it is not a mystery box, meaning that you can go to the store and check out/swatch the product you get to make sure you like the products. This way you don't need to pay for a box full of products you might never use.
In the end, I have to add that I'm anxiously waiting to see the October box :)
xoxo Tamara