A big announcement is here to be made! Like, right now!  Were any of you seeking a chance to break into the beauty biz?  One of these next few days might be your big day!  Between May 14-20, follow the mechanics of the contest ASAP and get the chance to win a 3-month beauty internship courtesy of Benefit Cosmetics PH and Fashion Intern PH!  It started 2 days ago, hence this early post so if you want it get your big beauty butt moving over to Benefit Cosmetics at Greenbelt 5…but sit and read this contest primer with all the deets just for 5 minutes before doing so.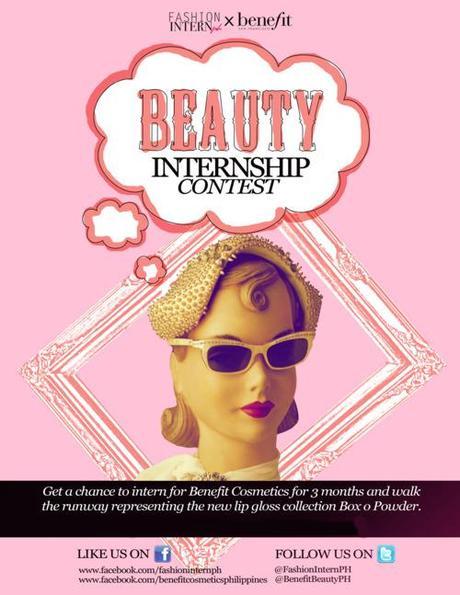 HOW TO JOIN:

Like  Fashion Intern PH and Benefit on Facebook.
Follow Fashion Intern PH and Benefit on Twitter.
Visit Benefit Cosmetics in Greenbelt 5 to create your instructional make-up video using Benefit products. (Recording and make-up on us!)
Book your store visit to record your entry here. If you're in the area, walk-ins are allowed too!
Submission of entries is from May 14-20, 2012, 1-3pm at Benefit in Greenbelt 5.
Video should not be more than 3 minutes.
It all sounds very exciting especially for fresh grads still enjoying the summer heat!  If I didn't have my own makeup career going and weren't such an old lady already I'd actually grab the opportunity and join this contest!  Here are the terms and conditions and the prizes at stake.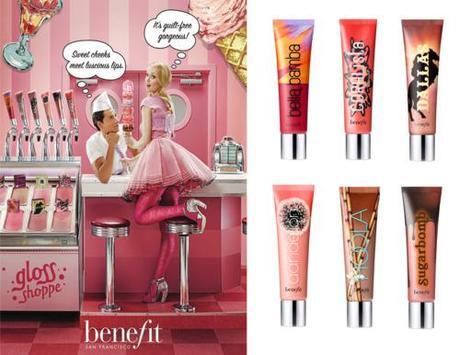 PRIZES AT STAKE:

6 interns will be selected for pre-finals to:

Spend a 3-week immersion at Benefit (includes make-up training, sales and marketing, event planning).
To walk the runway in the launch of the new lip gloss collection, Box 'O Powder (see photo above) on June.

2 interns will be selected and get a 3-month internship and freebies from Benefit.

TERMS AND CONDITIONS:

Applicants should be at least 18 years old and above
Fashion Intern PH and Benefit have the right to use and publish all submitted materials (sample, texts and photographs) under the companies' discretion to promote the program, publicize the activities of Fashion Intern PH and Benefit, and etc.
Contest is from May 14, 2012- May 20, 2012.
Pre-finalists will be selected on May 21, 2012.

Do you have what it takes? Enter the contest now!

For inquiries, email info(at)fashionintern(dot)ph