Just when I think my relationship with Beauty Army can't get any better, Lindsey gives me a huge gift basket full of goodies!!
Who told Lindsey I love presents?! Lol!
While at The Makeup Show in LA 2 weeks ago, right as I was about to leave, the lovely Lindsey hands me a 14 item (17 if you count the 3 pink army men) gift basket! I didn't have a chance to open it and play with everything because I was traveling but I opened as many things as I could as soon as I got back.
Inside were products from:
Erno Laszlo, Cover FX, myface Cosmetics, Rain Cosmetics, Boo-Boo Cover Up, Chella Skin Care, LaROCCA, Classified Cosmetics, Minteas.
*Note the

pink

army men...Nancy-Lee painted those herself! They're so cute!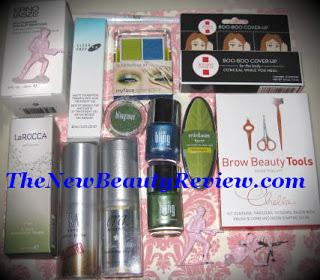 The Rain Cosmetics lip therapy is separate because I gave it to my Mom's friend who did a huge favor for me so it was in the goody bag I made for her. She did tell me it was creamy and that she loved it. It comes it 4 different colors. This one has a slight, pale shimmer to it. I wanted to show a picture of it because it looks like a big drop of water, which I think is adorable!
Sorry it's so small but I'm not a photographer, thanks! Lol!



myFace Cosmetics
Nail Polish: Bellbottom blues & Limelight
Blingtone eye shadow: Limelight
Silkscreen Eye Art, Eye shadow duo: Pop Culture
Slinky, Metal Liquid Liner: It's so new I don't have the name yet!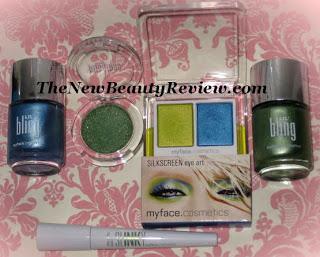 I think it's funny that a few of the shades are called Limelight because I was always at the Limelight (club in NYC) and there was a lotion from Bath & Body Works with the same name that I loved! It seems to follow me around...Lol!
Anyway, I got a blingtone eye shadow in my first kit back in January. The shadows are really pigmented & have the perfect amount of sparkle. I love the nail polish b/c it's also extremely pigmented! At first it looks like it's going to be streaky b/c the colors are somewhat of a soft metallic but after 2 coats it settles down. It yields such a smooth result, it looks like you're wearing nail stickers. Gorgeous! True story.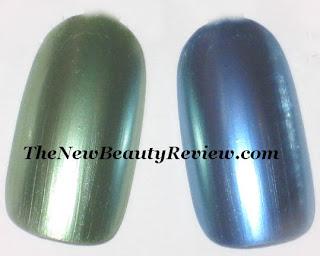 The Slinky liquid liner is silky and the applicator is similar to the Urban Decay liquid liner, so it makes it easy to use. The small brush also makes it easy to build your line from thin to thick w/out making a mess. Love it!
(L to R) Limelight (blingtone eye shadow)-Pop Culture (Silkscreen Eye Art eye shadow duo)-Silky liquid liner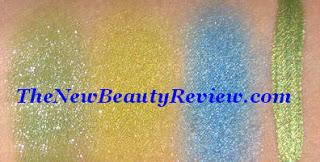 If you haven't been living under a rock, you've probably realized

green

is very big for spring/summer this year. I can wear most colors but green & blue have always been tricky for me. I have to be really tan or they just wash me out. The blue has to be deep like navy and the greens have to be on the pastel side. I did see the other colors they have and they're gorgeous!
I tried the Classified Cosmetics spray on bronzer and spray on illuminating primer in white gold. I have never been interested in airbrushing or spraying anything on myself because it usually makes a big ole mess. I tried Sally Hansen's spray tan once and swore I'd never use something I couldn't apply with my hands or a sponge.
I have gotten spray tans but those are being done for me. I have a hard time reaching around myself to spray. I'm sure it's funny to watch me trying though! Lol
I thought this would be more of a mist but it did come out like a spray at first. However, it wasn't like a violent spritz, it was soft enough. It says you're supposed to "mist evenly" but I found it hard to do because my instinct is to just spray! You must be light handed when using this or you will make a mess! I did spray some on and just rubbed it in with my hands. What a beautiful finish!! It's lightweight & oil-free and the color worked perfectly. It evened out my skin and didn't look overdone. I would skip my tinted moisturizer & just use this. It is bronze, not

orange

, and it looks like I've been in the sun but not tanning. You can use this on your body as well, which I plan to immediately!
The spray on makeup primer also had the same feel. I actually used this under the bronzer. It has a very light shimmer, but just enough to give you a radiant finish. I like how the bottle has a shimmer to it, keeping true to the white gold theme! Very clever! I can see myself spraying the bronzer on my legs and then giving a light mist of this on top just to kick it up a notch & have shimmery, glowing skin!
These will go very quickly!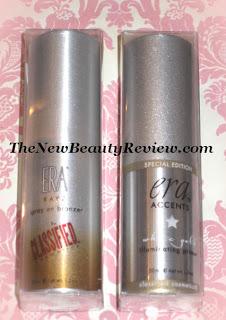 The Boo-Boo Cover-Up is like a cosmetic band-aid. I tried a little to see if it would cover a tiny bruise I had on my hand and it did. I'll have to find out if this comes in different shades because this looks like it's strong enough to cover tattoos! It's made with Aloe, Chamomile, Green Tea, Tee Tree Oil & Vitamin E.
I have high hopes for it! :-)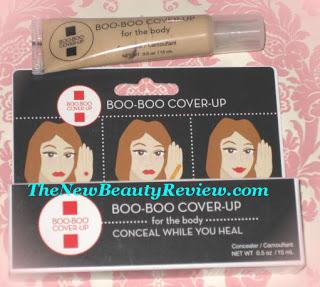 At first I thought the LaROCCA, C-Or C-Gold Reparative Primer was just a makeup base. I see the word "primer" and assumed it would be but it's SO much more than that!
First of all, it contains

24K Gold

& 15% Vitamin C! It's velvety & lightweight, not heavy like a silicone based product. I used a drop by itself with no make up on top and first it felt slightly slippery but then it sunk into my skin and left a dewy texture. I loved it!
Some of it's benefits include: sun damage repair, energizing & stimulating cell turnover, reduction of fine lines, wrinkles & age spots while softening the skin. It has no scent and you need the smallest amount.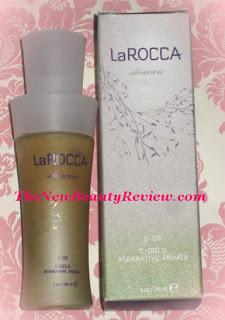 The Cover FX's, Clear Prep is probably not something I'd use. It's a Matte Foundation Primer but also an Anti-Acne Treatment Gel. I don't have acne & I don't like too much matte on my face because it can feel dry. I did squeeze out a drop on my hand to feel the texture and it's smooth with a nice finish. I wasn't crazy about the scent but I noticed it's only noticeable at first. It vanishes once you rub the product into the skin. This is perfect for my kit because I come across so many different skin types, I'm sure someone will benefit from this.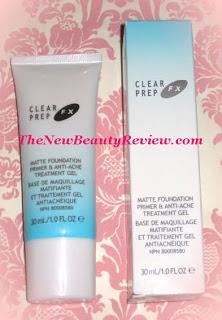 I grew up seeing Erno Laszlo products in my house because my Mom uses them all the time. The MULTI-pHASE Makeup Remover was made for all skin types & promises not to irritate eyes or skin. It has a soft, bland scent so I'm sure most people will find this appealing. It's a mixture of oil & water so it can be gentle enough to not irritate but tough enough to remove mascara & long-wear lipstick.
I'll put it to the test the next time I wear an OCC Lip Tar ;-)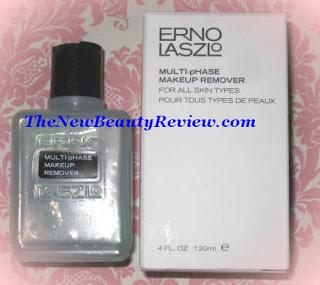 I first heard of Chella through Beauty Army so this is a new brand for me. In the gift basket was a Brow Beauty Tools Kit that came with tweezers, scissors & a really cool razor & brush/comb on the top. What I like about this is the tiny razor it comes with. I usually get the brow razors separately and they're about 2ce the size which can make it hard to get into the tiny eyelid space. I'm not saying they don't exist but I've never seen the brush, comb & razor together. I love it!
This is great for Makeup Artists and/or Brow Specialists because it's compact, which means one less thing for us to carry ;-)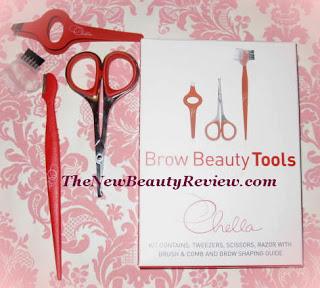 I have to say I was really excited to try the Minteas, Lime Mojito tea mints because I love mints and Mojitos! Lol
I popped 2 in my mouth and I have to say they're odd but I liked them. They're refreshing and they do taste like lime & mint. I'm so used to carrying around mints or gum, especially when I'm working. I always like to be fresh and it's good to have breath fresheners to give to clients that really need them! Just saying...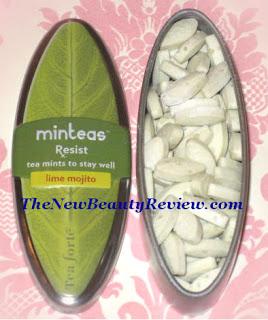 So thank you again to Lindsey and the girls from Beauty Army, I'm so glad I finally got to meet you all! It was great putting faces to the names and it was like seeing an old friend once Nancy-Lee and I got to talking. I sincerely wish them the best!
(L to R) Me, Nancy-Lee, Lindsey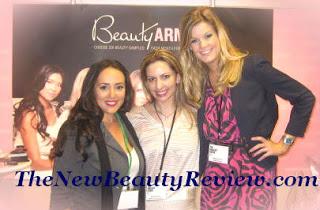 Cheers to a long & prosperous relationship between us!
*raises champagne flute...clink*
Big XO!!
Keep it pretty!
*Stephanie*