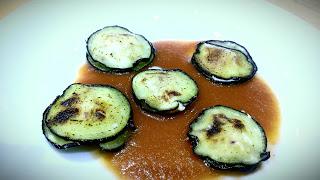 Ingredients
2 aubergines, 1 can cannellini beans, 1 bulb garlic, basil oil, dried basil, passata.



Serves:

 2 

Preparation:

 45 minutes
Given that I find it intensely irritating when people, upon discovering that I am a vegetarian, suck air in through their teeth, grimace and say "oooh I could never be a vegetarian" or worse still ask "what do you EAT!?"... I feel a little guilty for the exclamation which will follow this absurdly long sentence.
I could never be a vegan. 
There I said it. I'm sorry. Mainly for the lack of dairy, because we all know that I am a filthy cheese whore, but mostly for pasta. Oh pasta, how I love thee.
But I don't want to alienate my lovely vegan followers by being so closed minded, so here you are darlings - a way to make ravioli without using eggs.
The aubergine squidges together and seals perfectly (as long as the aubergine slices are the same size - not all of mine were!) and the wonderful bean paste in the center gives this a substantial feeling without the dreaded bloat that pasta causes. So hurrah all round for aubergines!

1) Slice the aubergines to half centimeter thick discs and sprinkle with salt. Leave to rest until you see dark juices beading the surface, then wipe away with kitchen towel

2) Rinse the beans and put on the hob to boil for 5 minutes. Strain and add to the blender.
3) 
Put the entire bulb of garlic in the oven and roast for 20 minutes. Squeeze the puree from 3 cloves into your blender along with a pinch of salt and a teaspoon of basil
. 
Pulse until smooth and set aside to cool.
4)
Melt a little basil oil in a frying pan and add the aubergine slices (I cook 4 at a time), turning immediately to allow them to soak up the oil evenly. Sizzle until the oil is completely soaked up by the aubergine before turning again - then continue turning until the surface of the aubergine colours and the skin changes to a vibrant, shiny purple. Set aside to cool



5)

Squeeze the rest of the garlic bulb into the passata and warm through on the hob before serving.
6) Fill the center of half of the slices of aubergine with the bean puree and top each with another slice. Pinch the edges to seal and add to the sauce.