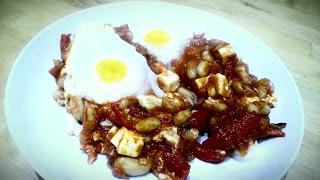 Ingredients
1 white onion, 1 can cannellini beans, 2 red bell peppers, 1 tsp smoked paprika, 100g feta, 2 eggs, passata.



Serves:

 2 

Preparation:

 25 minutes
Chachouka is a North-African casserole - I remember strings of melting soft onion, spices and the sharpness of the saffron and tomato under creamy egg yolk the first time I tried it in Paris, years ago. This version contains cannellini beans and feta and is flavoured with smoked paprika flavor.
1) Slice the tops from the bell peppers and remove the seeds. Remove the portions of flesh from between the membranes and slice into strips. Roast in the oven for 15 minutes at 200 degrees, drizzled with a little oil.
2) Peel and slice the onion, then break into rings. Sautee in a little butter along with the spices on a medium heat for 15 minutes, then stir in the beans and enough passata to just coat the beans in sauce. Allow to simmer for 5 minutes
3) 
Stir in the feta and pepper, then transfer to an ovenproof dish. Press wells into the surface with a tablespoon and crack the eggs into them. Bake in the oven until the egg white has just turned opaque, then serve