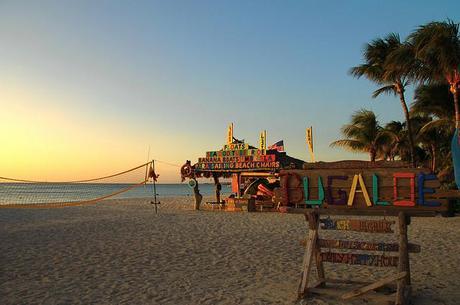 The traditional honeymoon idyll is of a soft white-sand beach, palm trees swaying gently overhead, and an invitingly warm turquoise ocean; that's what the magazines and brochures and almost every other piece of honeymoon literature will try and sell you (aside from this site, I hope).
But, a beach honeymoon isn't for everyone. Before you sign away all that money on two weeks in a resort by the sea (or on the sea, if you're so inclined), it's worth thinking carefully about your preferences. Because if you're not the kind of person who usually wants to stay in one place, looking out at the same (albeit beautiful) view every day, then two weeks on the beach might be more boredom than bliss.
Here's a few things worth bearing in mind:
In the thick of things or honeymoon hideaway? There are more types of beach honeymoons than I have space to write, so it's really a case of finding what's right for you. If you want complete and utter desert-hideaway seclusion then a private island resort in the Seychelles or an over-water villa in the Maldives may well be just what you're after. If you feel like you could manage no more than a few days of that before needing a bit more life, then choose a resort that's near or part of a larger resort town to ensure you have more options both at day and night. If you want a bit of adventure, think about combining a few days on safari with some time on the beach – the Serengeti and Zanzibar are an excellent combination.
Are you usually pretty active on holiday? If a normal holiday for you means cramming in the sights, taking a road trip, or indulging in an adrenaline sport, then a full beach honeymoon might be a little to staid for you. That said, if you'd be content as long as there's great diving and other water activities on your doorstep, make sure you choose a resort with good facilities to keep you busy.
Do you need the buzz of a city? If that's usually a big part of your travels then you might find spending all your time on the beach a little bit restrictive – think instead about doing a two-centre honeymoon (such as to New York and the Caribbean), which will allow you to get the best of both worlds.
Does the idea of eating and drinking exclusively in your hotel sound like heaven or hell? If heaven then an all-inclusive beach resort deal is probably perfect for you; if you'd rather have the option of dining out elsewhere, then choose a hotel or resort that's within easy reach of other places to eat and drink – for example, if you want to go somewhere like Koh Samui in Thailand, choose to stay somewhere like akyra Chura Samui, on bustling Chaweng Beach, rather than the much more secluded Six Senses Samui.
Want to see more of the country you're visiting? Having a beach honeymoon doesn't have to mean not seeing anything of your destination, of course, but a traditional sun-and-sea holiday often involves seeing relatively little beyond the beach and the swimming pool of your resort. If you want the option of being able to see more, choose a resort that will offer you day trips elsewhere in the region (for example, at many Riviera Maya resorts in Mexico you can do day trips to Chichen Itza or Merida), hire a car to do a bit of independent exploration, or book a honeymoon that involves some time exploring the country and a few days (or a week) on a beach.
Know your limits. Last year, when I was booking our holiday, all I really wanted to do after a stressful few months was go somewhere warm and sunny and collapse on the beach. But I knew (and thankfully my husband reminded me) that that was just the tiredness and stress talking, and that in reality within a few days I would get itchy feet and need to do more than that. In the end, we had four nights on the beach – one at the beginning, and three at the end – which worked out to be the perfect combination of  having time to unwind and relax, without getting fed up. But trust me, one day more and I would have started going stir crazy. So talk to your other half, think about the kind of holidays you've taken in the past, and think seriously about whether or not spending all your time on the beach/in the pool/in the sea would be enough for you – chances are, it might well be, but if it's not, don't get swept into a decision because that's what people tell you a honeymoon should be.
Speak to a travel agent. If you really want to find the right resort for you, the best thing you can do is speak to an experienced travel agent or tour operator, who will be able to match up your preferences with specific destinations and resorts. For a list of recommended agents, check out our Travel Links section.
Photo courtesy of notspavin