So, since I still haven't been able to upload my pictures, I thought I'd talk about a food that is controversial here in the South and that is BBQ. Barbecue is controversial because everyone thinks their style is the best and they get HEATED if you disagree, uhum, jennifer setzler, i'm talking about you. So, for you folks that don't know what I'm talking about, I thought I'd talk about the different styles just because it's fun and I like to eat and I've had a lot of bbq lately, I don't know why.
Barbecue is pork that has been smoked in some fashion and then the meat has been pulled off of the bone, hence the other name, pulled pork. What makes each region different is usually preparation and type of sauce. The sauces can be mustard based, ketchup based, vinegar based and dry rub.
North Carolina
North Carolina is split into regions and those regions provide a variety of sauces. The pork is pulled and typically chopped while sauces vary by region Eastern NC tends to have a vinegar based sauce while Central NC is more of a ketchup and vinegar mix. Western NC is a heavier ketchup based sauce.
I got to experience this over the weekend when we stopped in Durham at the Q Shack. I had a chopped pork sandwich that already had the sauce mixed in. It was a spicy vinegar based sauce that tasted pretty good. I typically like a thicker sauce, but this was good because the meat was moist and tangy.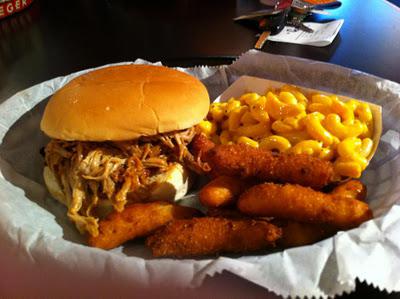 the hush puppies were awesome although I have never had hush puppies with BBQ. The mac n cheese was nasty
I have had ketchup based sauce but never Western NC bbq so I can't really comment on it. That may be the next thing I try. 
South CarolinaI am obviously biased being a South Carolinian, but I think ours is the best. And we actually lots of choices too. In the upstate (which is where I'm from), we offer all 4 sauces. Normally, our BBQ doesn't come with a sauce, it's pulled pork and then you put what you want on it. If it does come with a sauce, I think it's typically a vinegar base but as I said, everywhere I've been is dry and you add your own. In what we call the Low Country, they offer a mustard base sauce which is my FAVORITE!!! Any time I have an option, I'm going yellow. Carolina Yellow is what it's called and it is good. In the midlands, they also have something call Hash. I've only had it once, and it was amazing.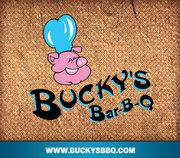 They don't have a great logo, but the BBQ is the best in Greenville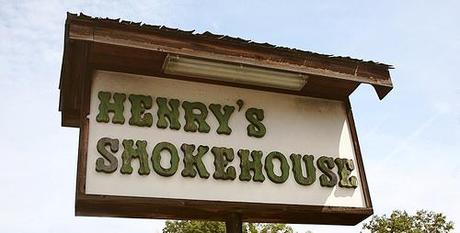 one of the older places, this used to be my fav growing up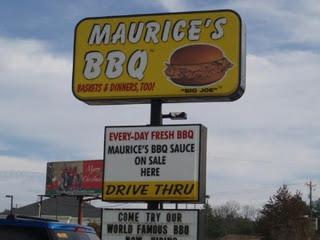 In Columbia, this is the place with the hash. It's good. The store is not good. But the food is

Now there are 3 distinct flavors that I've never had so I had to look these up on Wiki and I have no experience with them. 
Memphis Style is a little sweet - I think they use molasses Texas - this is more brisket vs pulled pork. This is what my hubby likes and yes, he is from texasKansas City - said to be the best and is sweet and spicy
I don't understand these styles and have never had them. I really don't even consider Texas or Kansas City to be in the Southeast so how can it be southern BBQ, it is not. Memphis is the only one that I've heard about and want to try. We southerners love sugar!
I wouldn't say this good is high in nutritional value, but it's definitely a staple of the South