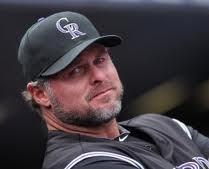 Rockies veteran Jason Giambi
The news that grizzled veteran slugger Jason Giambi was interviewing for the Colorado Rockies managerial job – which coincided with the horrendous post-season fellow veteran slugger Alex Rodriguez has had with the New York Yankees – got me to thinking about Major League Baseball's "Steroid Era" once again (of course, with the high-profile suspension of Melky Cabrera this season and the Ryan Braun controversy last winter, perhaps that era continues).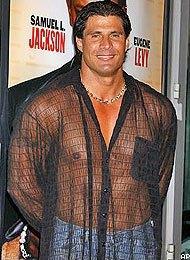 Nice shirt Jose!
As we rapidly approach the voting period for the 2013 Hall of Fame induction ceremonies (something I wrote about last October), we've seen a lot happen to some of the standout names from that "Steroid Era" in recent months:
Mark McGwire is completing his third season as the St. Louis Cardinals' hitting coach, where he won a World Series ring last year and sees his Cards in the NLCS again this year.
Jose Canseco continues to drift into oblivion, posting nonsensical Twitter comments (even including time travel!), failing to show up for autograph appearances at low-level minor league games, filing for bankruptcy, and now reportedly seeking a pro wrestling career.
Giambi, once the successor to the original Canseco-McGwire Bash Brothers in Oakland, is now a managerial candidate. This comes after his hard-partying ways were well documented, his admission to steroid use and subsequent suspicion of amphetamine use came and went, and he endured a series of highly unusual health issues, including an intestinal parasite, calcium deposits in his eyes, and a tumor on his pituitary gland.
Roger Clemens was found not guilty of lying to Congress about steroid use in a federal court case in June, pitched for the Sugar Land Skeeters this summer at age 50 (sparking talk that he wanted a cameo appearance in a big league game to delay his Hall of Fame candidacy five more years), and appeared at a Red Sox Centennial celebration in late September as he apparently tries to slowly repair his tarnished (rightly or wrongly) image.
Andy Pettitte, who has alternately been accused of using steroids himself and been called as a witness against his old friend Clemens in that very trial, made yet another comeback this season with the Yankees. He's now 40 years old and sat out all of 2011, yet posted a 2.87 ERA in 12 starts this year – his lowest since he teamed with Clemens as a member of the Astros in 2005.
Barry Bonds, inexorably linked to the BALCO scandal that rocked all of sports, has also started what would have to be monumental rehabilitation attempts on his image slowly and methodically, appearing in San Francisco on occasion and even serving up niceties with reporters during one interview early this year where he made reference to his desire to get back in the game one day to teach hitters what he knows (a body of knowledge which, steroid-aided or not, is hard to ignore). Though like Clemens he was cleared of perjury (Bonds was accused of lying to federal investigators), he does have an obstruction of justice conviction to deal with; it is currently under appeal.
Benito Santiago, another BALCO client, threw out the first pitch for Game 2 of the National League Championship Series at San Francisco. He was the MVP of the 2002 NLCS, helping send the Giants to the World Series before the BALCO story took control of the Giants' fortunes for several years. This appearance in San Francisco came just over eight months after he was arrested in Florida.
And A-Rod's steady decline continues at an age when, in the aforementioned "Steroid Era," many players his age weren't declining much, and in some cases (i.e. Bonds, Clemens) were actually getting better. He's been benched more than once this postseason by manager Joe Girardi, something unthinkable in past years.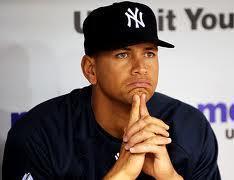 Alex Rodriguez has found himself on the bench a lot during the 2012 playoffs.
It's an interesting juxtaposition when one considers some of these key players, and how some have moved beyond the scandals of the past decade and others may never recover.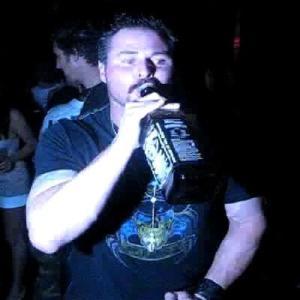 Jason Giambi, hanging with Jack in Vegas:  Future big league manager?
"After A-Rod retires, he wants to be a real estate mogul, the next Donald Trump. I could care less. As long as I can have a fast boat and a margarita machine and can light my hair on fire, I'll be just fine." – Jason Giambi, 2008
The fact that Giambi is now thought of as a sage veteran and potential field boss is fascinating considering his image 15 years ago in Oakland, or his near-pariah status when the steroids stories broke while he was a Yankee. And his one-time mentor McGwire's return to the game after living in virtual exile following his infamous Congressional testimony is now almost an afterthought.
It seems Clemens, newly exonerated, hopes for a similar renaissance, though given the sordid accusations that made headlines that may take much more time. And the same goes for Bonds, though his obstruction of justice conviction (now under appeal) makes things a bit dicier still.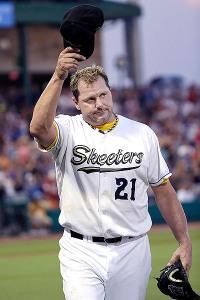 Roger Clemens, Sugar Land Skeeter
However, one has to wonder. If McGwire and Giambi can be considered as coaches and managers, shouldn't this era of players also be considered for the Hall of Fame against their peers? Pete Rose and Joe Jackson aren't in the Hall of Fame because they were banned from the sport (rightly or wrongly – that's another discussion entirely). These players – Bonds, Clemens, and so many others whose Hall of Fame candidacies are now questionable at best – were never banned from the game. And no sportswriter who votes on the Hall of Fame knows for certain which players were using and which weren't, or which players historically drank from the notorious clubhouse coffee pot filled with greenies and which didn't. These players excelled against others who were also cheating, and they were still better than everyone else. Do we ignore an entire era of baseball history, or do we somehow recognize it in the Hall as a tainted era and allow the best of the best from that tainted era in the door?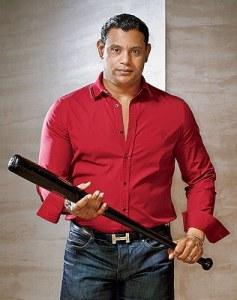 Sammy Sosa in 2010. Nope, I didn't recognize him either.
Giambi won't be a serious Hall of Fame candidate, nor should he be. But I'm curious where Alex Rodriguez will wind up in the minds of those voters who discount McGwire, Bonds and Clemens (as well as Rafael Palmeiro, Sammy Sosa, and even Jeff Bagwell, who received less than 42% of the vote last year despite never testing positive or being charged with a crime).
Because Rodriguez is still active, have his past transgressions been forgotten more easily than the accusations against those three, whose careers ended under clouds of suspicion? Because he admitted steroid use (when caught), will he be voted in while others are denied? And what about Ryan Braun, whose career certainly is on a Hall of Fame trajectory. Will a technicality that canceled his positive test and subsequent suspension be enough for voters 20 years from now to vote him into the Hall?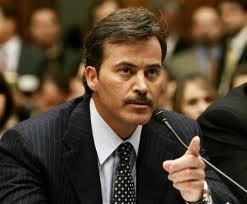 Rafael Palmeiro: His finger wag at Congress was followed by a positive steroid test. Oops.
I wonder how many years – or decades – it will take for some of the image rehabilitation to occur in the minds of the voters who select Hall of Famers. Perhaps it never will. It's hard to imagine anyone forgetting Palmeiro wagging his finger at a Congressional panel and then later testing positive and blaming teammate Miguel Tejada's Vitamin B-12 shot, effectively ending his career. But it's hard to imagine an entire era of baseball history – and some of the most prodigious record-holders in the sport's history – never being acknowledged in Cooperstown, particularly if those who have either outlasted the scandal (like ARod) or have come along more recently (like Braun) eventually make it. Enter your vote below…
<a href="http://polldaddy.com/poll/6619493">Take Our Poll</a>