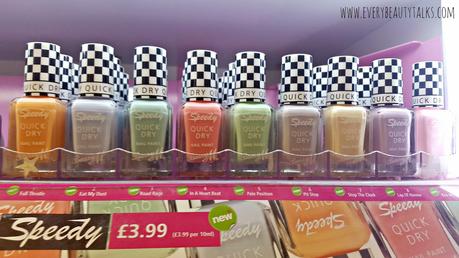 Barry M Speedy Nail Paint.
I
 am a sucker for a good nail polish and when I saw all the lovely pastel nail colours in the new Speedy quick drying nail paint collection
by Barry M I just had to pick one up. The lovely blue took my fancy and I am ever so glad I picked it up!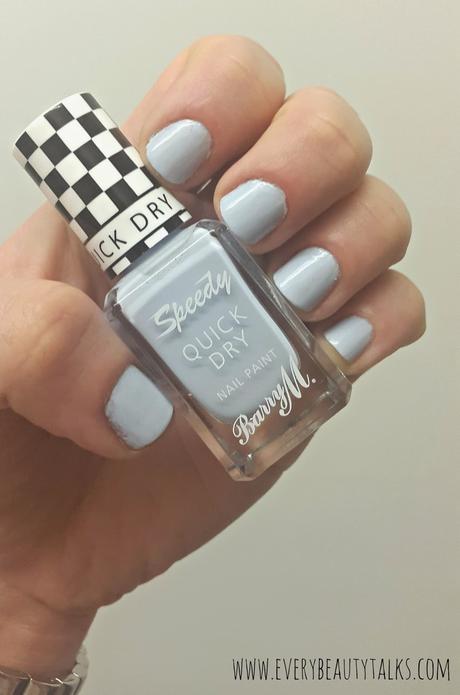 Barry M Speedy Nail Paint in 'Eat My Dust'.
Application is great. While I had to use 3 coats to get this creamy opaque finish it was the easiest application process ever when it comes to really pastel near white polish. Those of you that like a lighter shade will be able to relate with me when I say that they are the hardest colours to work with. You apply one coat, think it's dry and go on to a second coat only to find yourself moving polish that is already there resulting in a washed out streaky finish you then find yourself trying to patch up. Not with this polish! That's right my friends! A polish that dries quick enough that when you have painted your 10 nails you can go straight back in for a second coat with the guarantee not to do any damage to your existing paintwork.The formula has actually worn better on my nails than the other Barry M nail polishes I own. This was a surprising find for me, as I don't generally find quick drying products wear as long due to the added drying technology. I got a good 4 days wear before I noticed any chipping.
Can we also take a second to appreciate the cute packaging and name. All the shade names some how relate to car racing and being fast.

Grab your own Barry M Speedy Nail Paint for £3.99 GBP from Boots and Superdrug.
Have you tried the new Speedy collection? Do you like Barry M polishes? What is your favorite nail polish brand?