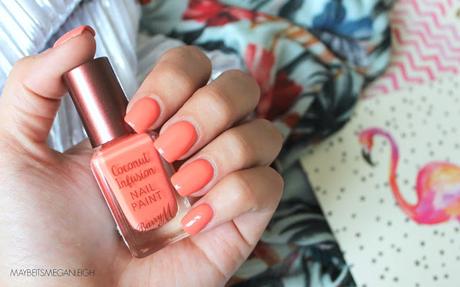 Who isn't obsessed with coconut oil at the moment?!? From using it in your cooking, moisturising your body with it or using it as a hair mask. Now it's been added to a nail polish?!?
Yep you heard that right, Barry M have recently released a polish infused with a blend of coconut water and oil. This new formula is said to hydrate and nourish nails while delivering a smooth, gel like glossy finish. To get these benefits Barry M suggest you use no base coat (Eeek this goes against everything that I have ever know as a beautician) and to apply straight on the nail.
If the Coconut Infusion Nail Paint range were deep colours I wouldn't even go along with this no base coat theory, as I don't want my natural nail bed sucking up the pigment and being stained. However the whole range is very spring/summer appropriate with light pastel shades. I opted for the coral toned shade 'F
lamingo'.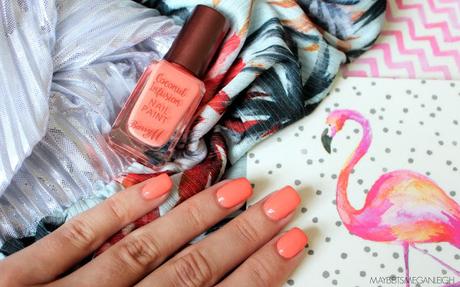 I'm yet to use a Barry M formula that I dislike. The coconut infused polish applies evenly, with two coats giving a nice glossy finish. The brush is flat and tapered to fit the nail bed perfectly.
Another bonus is that since the foundation of Barry M Cosmetics in 1982 they have never tested on animals and are completely free from any animal ingredients and are therefore suitable for vegans.
£4.99 from Boots, Superdrug, 
£5.00 from Marks And Spencer