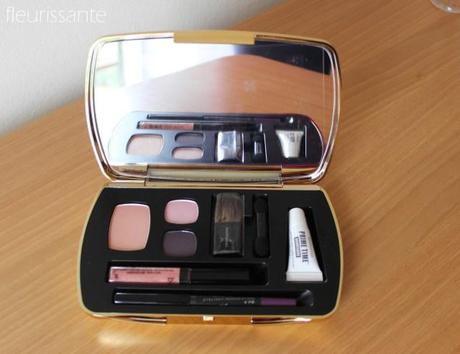 Hello lovelies,
I know this palette has been a part of Holiday 2012 collection, but I decided to review it as it sometimes pops up on feelunique and lookfantastic. The full price of the set was 24 GBP, but I got it on sale for 50%off.
The set comes in a bulky, flimsy plastic box which is a magnet for fingerprints. You also get a golden clutch, but I didn't snap the picture of it.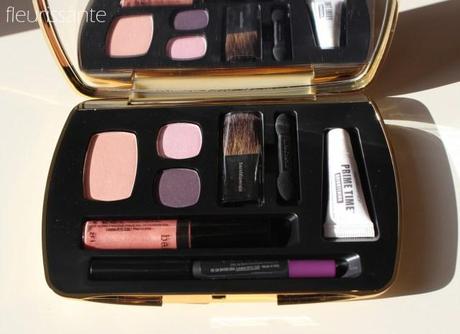 The set contains everything you need: 2 eyeshadows (Glitterati and Center Stage), a blush (The Big Break), an eye primer, an eyeliner (4PM), a lip gloss (A Lister), blush and eyeshadow applicators. The blush applicator can work on the go, but the sponge tip applicator is nothing special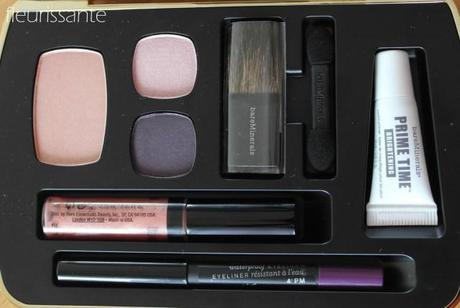 A blush is a pale peachy pink – a perfect everyday blush. Its lightness and satin finish can also make it a great highlighter for darker skin. On my NC15-20 skin it shows like a subtle blush. I definitely plan to use it (and possibly repurchase full size) on days when I'm in a hurry and don't have the time to blend brighter blushes.
Center Stage is a satin dark purple, almost black eyeshadow. It swatched patchy, but it goes on evenly and blends easily.
Glitterati is a pale shimmery pink. It is very pigmented.
I don't like the huge contrast between the eyeshadows – I would prefer a bit lighter shade instead of Center stage.
Round the Clock eyeliner in 4PM is an eggplant purple eyeliner. It is super creamy and soft – perfect for eyes and waterline. It sets quickly after application and stays on. I tried on my waterline and it left a pretty nice color there and stayed on for over 4 hours without fading.
Primetime eyelid primer is very close to becoming a holy grail. It is a pale shimmery gold primer- It works great under the eyeshadow – it makes the eyeshadow last for the whole day without creasing or fading. Another bonus is that you can use the primer on its own as an eyeshadow. The primer sets quickly and, once it is set, it won't budge.
The photo below shows what happens to the swatches of 4PM eyeliner and primer after scrubbing them with soap – the eyeliner faded a bit, but the primer is still there.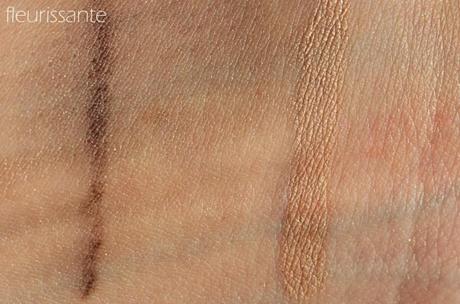 The last item is Marvelous Moxie lip gloss in A Lister. It is a shimmery nude peachy gloss – pretty pigmented and almost non-sticky. I'm not a fan of the fact that it contains mint – it unnecessarily irritates my lips – but other than this, the gloss is great.
I like that you can create a whole(albeit a bit shimmery) look with this palette only. The items you get complement each other, but even though the overall quality of the products is great and you get very generous amount of products, I would not pay the full price for it.
Swatches:
blush, center stage, glitterati, eyeliner: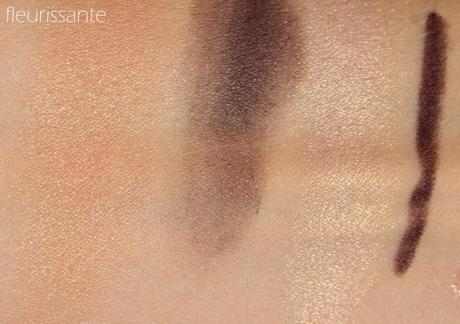 blush, center stage, glitterati, eyeliner, lipgloss, primer: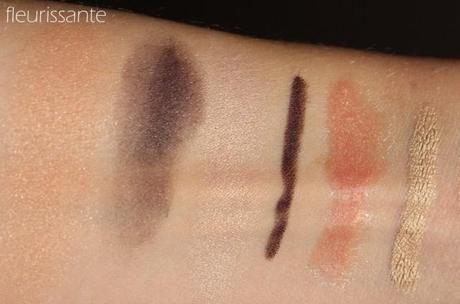 eyeliner, lipgloss, primer (not blended), primer (blended):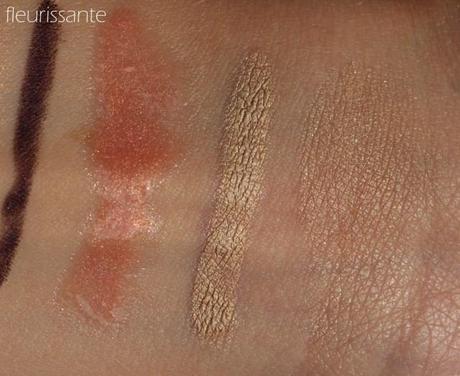 Thank you for reading,
xoxo Tamara
Filed under: bareMinerals, blush, combination set, eyeliner, eyeshadow, eyeshadow primer, lipgloss, make-up Tagged: bareminerals, beauty, makeup, set