We're sliding back into beauty with a whisper of makeup over the face, and I mean like the barest veil. It's not supposed to look like I have no makeup but more like the least amount possible to make it just noticeable enough. I'd say it's somewhat Glossier-ish in terms of the effortless approach to makeup. More often than not I prefer my makeup looking like I didn't try too hard depending on the occasion. In this look I skipped liquid foundation.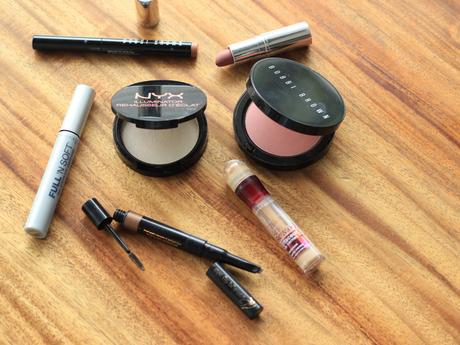 Bobbi Brown Longwear Cream eyeshadow "Sand Dune", VMV Velvet matte lipstick in "Fireclay", Bobbi Brown Illuminating Bronzing Powder in "Antigua" used as blush, Maybelline Age Rewind Concealer (my shade is Medium, shown here is Neutralizer...too light for me by 1 shade), Eye of Horus Husk Dual Brow Perfect (pencil and brow gel), Maybelline Full N' Soft Waterproof Mascara, NYX Illuminator powder in "Ritualistic".
Before I left the house and applied makeup in the cafe where I'm at right now I applied a couple of dabs of Pixi's Rose Oil Blend onto my face earlier this morning to give it a bit of a luminous lift. This was today's "bare but there" makeup menu. Read on to see how it turned out and how I did it!
My favorite new product out of the bunch above is the NYX Illuminator in Ritualistic which imparts a sheer non-glitzy glow even if it is a compact powder highlighter, it's not too soft or delicate like the Maryloumanizer highlighter by the Balm and is sheer enough to use as an illuminator down the bridge of the nose and the center of the eyelids, it's the sort of powder highlighter that's great for people with a heavy hand because you won't ever manage to overdo it and end up twinning with a disco-ball. See the subtle difference in the before and after below?
WEARING THE NYX ILLUMINATOR IN "Ritualistic"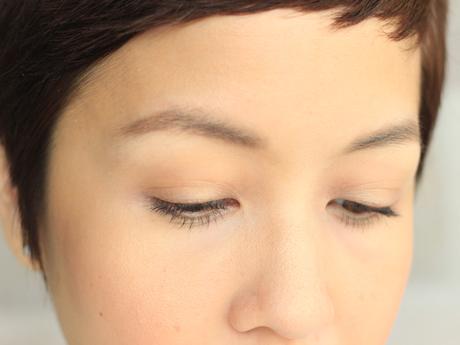 BEFORE AND AFTER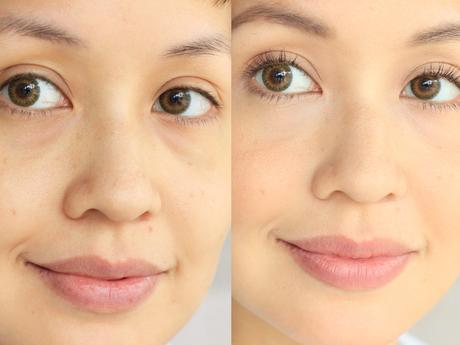 I dabbed the Maybelline Age rewind concealer which was a shade too light for me (no choice, I ran out of Medium) under my eyes, around my nose and down the bridge of the nose and patted and blended that out with fingers even more. What's nice about the Maybelline Age rewind treatment concealer is it sits well on the skin and doesn't cake on me even if I used a quick absorbing facial oil prior to applying makeup. An option like that works similarly abroad would be Glossier's Stretch concealer which is especially formulated to cover and sit well on top of skincare. Then over my cheeks and the high points of my face I dusted the Bobbi Brown Illuminating Bronzing Powder in "Antigua" to get that sunny flush.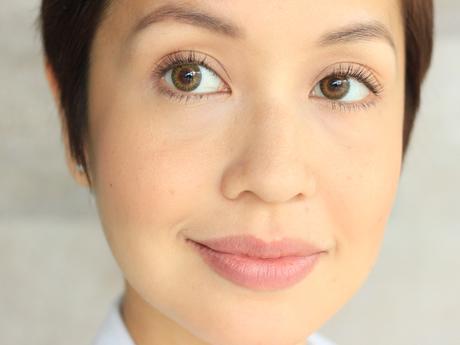 What's lovely about not having used foundation on my entire face is some of my sun spots or hyper pigmentation (which could very well pass for freckles) show through the blush giving a more natural look. I then filled and groomed my brows with the Eye of Horus Husk Dual Brow Perfect (pencil and brow gel) and drew the Bobbi Brown Longwear Cream Shadow stick in Sand Dune onto my lids blending it with fingertips. I curled my lashes and sealed them with Maybelline Full N' Soft Waterproof Mascara for a feathery, curled, but natural look. To finish the lips I used t he Eye of Horus brow pencil in Ash Blonde to covertly line and define my lip shape before adding a sheer layer of VMV Hypoallergenics lipstick in "Fireclay". By the end of the day the look was so light on the skin I'd forgotten I had makeup on and it was fun to add and retouch just a bit more during a makeup event I attended because I hadn't overdone my makeup in the first place.