I have always been scared to wear too much color on my eyes, as I don't really stray from wearing neutrals really. I am always messing about with my eye shadows trying to create new looks and today I was a little inspired by Barbie. Now it isn't pinks, but purples as I find pinks/reds are very hard to wear on the eye. I winged to eye liner right out to give a very defined look yet the colours were very soft. I thought it would be great to wear to a fancy dress party if you were to go as Barbie, or you could change the colours for something more your style (blues/greens or neutral...).



So this was the finished look, I really liked it as the colours were very soft, so that makes it a little more wearable. The liner was winged out far, but it was a very thin line so wasn't too harsh. I also think it is a look that is very adaptable, so you can make it suit you.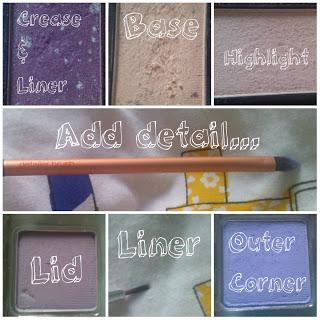 So these were the colours I used, they were mainly from the MUA Artiste Collection, and then there were 2 other colours that I just had lying around. So firstly I took a pale/shimmery color for my base, I took this right up to the brow bone, not only did it give a pop of glitter but it evened out the lid.I also took the pale purple color all over the lid, I have quite hooded eyes so I also took this color a little onto my brow bone, so I could get that definition.I took the bluey/purpley shade into the outer corner, but I sheered it out as I wanted a soft look.I used the darkest shade to define the crease, again I sheered it out but I used enough to get that definition.I also used this dark shade along the bottom lash line.Finally I used the lightest highlighting shade right in the middle of the crease, I used this to give my eye more shape. For tools, I used the normal eye brushes, but I wanted to mention the Real Techiniques Definition Brush as it is perfect for really deepening color in the crease. What I like to do is apply a crease colour, then blend but then take the detailer brush and deepen that crease further so I have a very definite colour, if you know what I mean.I also put the very thin brush on the picture, I only got this 2 days ago but I love it. It gives a really good line when defining the top lash line, but when using a pop of color under the eye it gives a really good effect.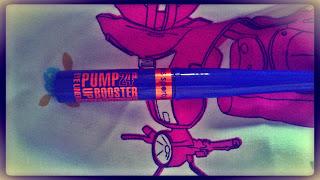 For the liner I used the Miss Sporty Waterproof Liquid Liner, this is excellent. I love it. The nib is easy to work with, the liner is jet black. And it's waterproof, but can be removed with come good cleanser. So yeah I love this product.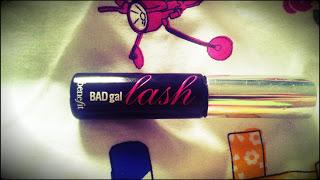 For my lashes I just gave them a coat my beloved Bad Gal Lash from Benefit. My favorite ever mascara. LOVE it.
So that is my Barbie inspired Purple Look. I hope you liked it.
Thank you, see you soon.
Love Allie x x x
Twitter | Email | Ask Allie