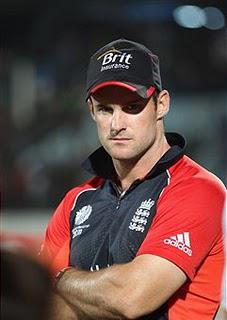 Hello there. Welcome to the report of the 28th match of the World Cup - England vs Bangladesh.
Zahur Ahmed Chowdhury Stadium, Chittagong
: England went for Prior as an opener, fighter Morgan made a comeback, Collingwood replaced Bopara. I wasn't happy to see Prior as an opener. Either Trott or Bell should have been given a chance at the top. For it to happen, Morgan would bat at No.3 or 4 and since he seems to be adaptable, this isn't a bad idea. The question is whether Trott or Bell would be more successful batting where they do now. But England lack an opener and needs to take this risk right in the middle of the World Cup. As soon as Trott comes out to bat, the run rate drops, at times even his partners catch his tortoise approach to batting. But he provides foundation and it's better to bat at a low run rate in the start than to lose a few wickets. If Strauss could flourish with Trott by his side, it could well provide England the consistency they need. Kevin Pietersen is a big loss, because the opening partnership of Strauss and KP was beneficial in the tournament, except for the clash against South Africa.
As the action began...
Bangladesh won the toss and choose to field. Soon, Prior was stumped, rather foolishly, especially for a wicket-keeper. Rahim, the Bangladesh keeper, failed in his first attempt to stump, but Prior was lazy in his return to the crease. So Rahim took the stumps out of the ground with the ball and that was the end of Prior. After 16.4 overs, England was struggling at 53/3 with Strauss, Prior and Bell back in the pavilion, as Morgan made his way out. Trott and Morgan were again the heroes as England sailed to 162. Jonathan Trott is England's Mr.consistent with an average of 54.61 in one-day, 86 in Tests and 57.80 in World Cup 2011. Though he bores me to death! Paul Collingwood was sent at No.8, which made me wonder if he was in the team just for the sake of being in the team. There isn't much use of his batting if he bats so low and he shall not just play to bowl economical overs.
How the Tigers chased it down...
After being 73/3, opener Imrul Kayes and captain Shakib took it forward to 155. Bangladesh almost gave the match away as the wickets started to tumble. They lost their 4th wicket at 155 and the 8th at 169! When it looked like England may pull this one off, Mahmudullah and Shafiul Islam showed what they are made of. Strauss has raged me in a lot of matches because of his defensiveness. It looks like he always has the 50 overs planned and never changes his plan, no matter what the situation is. Even if the opposition loses 8 wickets, he aims for economical overs. England rarely wins before the 49th over. Take my advice folks, if you want value for money in this World Cup, England's matches are the best. And if you want to be stunned, Pakistan isn't a bad bet either! In my last post, Another jolt in English cricket: Kevin Pietersen out of the World Cup, I asked my readers, "Will England lose to Bangladesh and defeat West Indies by 200 runs or 10 wickets?". It could prove to be right! England must defeat West Indies. For both England and Bangladesh to reach the quarters, England must beat Windies, Bangladesh must beat South Africa and Netherlands, which is unlikely.
Man of the Match: Imrul Kayes
Brief scores:
Eng 225 all out in 49.4 overs (Trott 67, Morgan 63, Islam 2/29, Razzaq 2/32, S Hasan 2/49)
Ban 227/8 in 49 overs (Kayes 60, Iqbal 38, S Hasan 32, Shahzad 3/43, Swann 2/42)
Until next time, take care. Cheers!