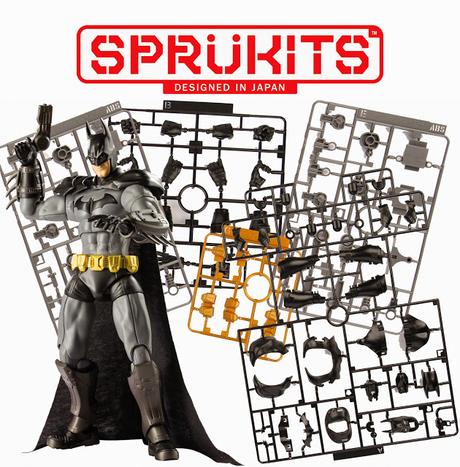 Sprukits are all-new action figure model kits of the biggest and best characters from your favorite comics and video games. 
 Each kit 

allows you to

cr

eate your hero from the ground up; you don't need scissors, brushes or glue, it as simple as, check, snap, and build. 
The kits arrive with everything you need to build your character 
and require nothing more, you simply follow the very clear illustrated instructions, snap the pieces together, and that is it. 
Each tray of parts is clearly numbered, and it takes you around 40 - 90 minutes of building fun. 
I

ncluded in each kit is also a display stand and multiple accessories 
to give them a fully-finished look. 

The finished models have great articulation, due to the design and how they connect together, which allows tons of movement in all areas. You can even swap the hands to hold the different weapons and you can make different poses very easily.


The kits are available in three different levels

:
Level 1 kit - beginners and junior builders with over 30 pieces used to build a 4" model - RRP £8.99 each.
Level 2 kit - slightly larger scale with higher detail (smaller parts) - 

model kits stand around 5″ tall and consist of 70 pieces, enabling increased detail and articulation - 

RRP £15.00 each.
Level 3 kit - These are extremely detailed and have upwards of 150 pieces with increased articulation giving them true to life movement, and they stand at 8". RRP £49.99.
Lewis and Jacob and myself worked together as a team, and we built each kit, it was both fun and rewarding; p
opping out the pieces is easy, and we didn't need scissors. We followed the large illustrated instructions and continued until we finished - the boys were excited to see it complete.
Once finished you can move the model's arms, legs, waist, hands, and head. The articulation is really good for such a small toy, they are just like a toy action figure, and my 5-year-old son uses them for just that. In addition, once he has finished playing with them, we put them back on their stand on the shelf, and they look fantastic on display as a model.
These would make a great gift for the superhero action character fans, model builder, or Lego fan, etc.  You can buy these at any high street toy shop and on Amazon.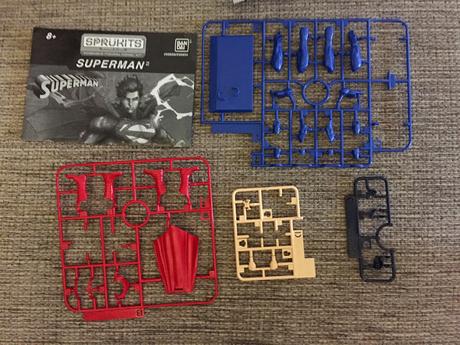 Each kit includes instructions all the parts.