One of my colleagues had shared with me the banana chiffon cake recipe that she had gotten from her friend. M told me that she had tried the cake that her friend had baked for her and immediately fall in love with the banana chiffon cake. The cake is light and fluffy in texture with chunky banana bites. My colleague is not a fan of cake and since she was full of good praises of the banana chiffon cake, I can't wait to try baking the chiffon cake using the recipe given by her friend.
This time round I had used Kenwood Kmix that frog had bought for me to beat the egg white to glossy stiff peak. The beating was homogeneous and it had taken about 5 mins to beat the egg white to stiff peak. Previously I had used hand mixer for beating egg white and it can be quite tiring. I love to eat chiffon cake and now I can bake more often using the Kenwood Kmix to beat the egg white. Baking chiffon cake is much easier  now!
Ingredients
For 21/22cm Pan
70g Egg Yolks
70g Corn Oil
30g Water / Milk
90g Mashed Banana (use ang bah jiow or pang jiow)
140g Diced Banana (5-7mm)
90g Cake Flour (sift flour)
½ tsp Vanilla Essence
180g Egg White
90g Castor Sugar
10g Corn Flour (sift) / ¼ tsp Cream if Tartar
 Method
Preheat oven at 180◦C (I use fan mode)
Whisk egg yolk, oil, water and smashed banana till well combined. Sift in cake flour and whisk well. Stir in the diced banana and mix well with a spatula.
Beat egg whites (medium speed) until foamy peaks; add in castor sugar and cream of tartar. Increase the mixer's speed to high and mix until the egg whites till very glossy and stiff.
Fold 1/3 of egg whites to yolk batter, and then fold the mixture into the remaining egg whites.
Pour batter into an ungreased tube pan and bake at the lowest rack for 57 mins.
Cover the top of the pan after 45mins of baking to prevent the top from overburnt.
Once the cake is done, immediately turn over to cool completely before removing from pan.
Yes the banana chiffon cake is very soft and fluffy, so do be careful when you are removing the chiffon cake from the pan.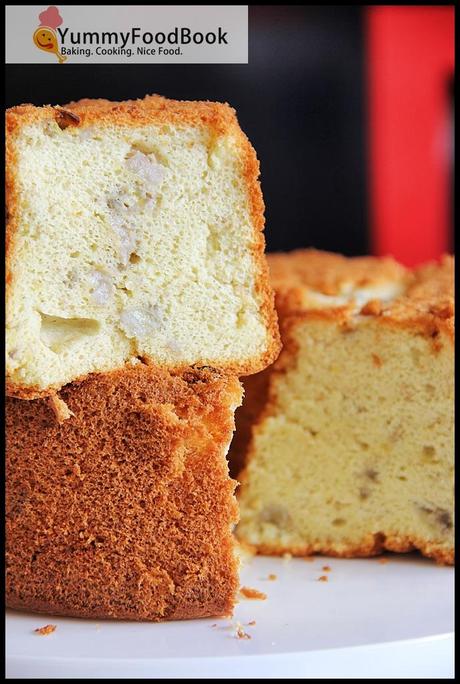 Very addictive as frog and I had finished half of the banana chiffon cake after removing the cake from the pan! Try baking them this weekend!

More from YummyFoodBook
OLD FASHIONED BANANA CAKE

STEAM CORN CAKES

ORANGE CHIFFON CAKE

CHOCOLATE BUTTER CAKE

HOKKAIDO CHIFFON CUPCAKE