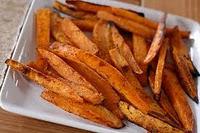 TIME: 20 MIN.
DIFFICULTY ': *
INGREDIENTS:
4 medium sweet potatoes
extra virgin olive q.b.
TO COMPLETE:
knobs of butter
granulated sugar
ground cinnamon
PREPARATION:
Wash, dry and peel the potatoes.
Cut into sticks and put them on a baking tray greased with oil.
Bake at 180 degrees and cook for 30 minutes or until the potatoes will be tender.
Meanwhile, mix one tablespoon of sugar with a cinnamon.
Baked potatoes and sprinkle with flakes of butter and mix with cinnamon and sugar.
The plate and serve.