Okay so traditional falafels are fried, however I do prefer them baked, a little less oil in the diet and of course I can put it in the oven and leave them while I make something else.  I am also thinking of multi-tasking ;)
These falafels are full of flavor.  We enjoy them with a large salad and some creamy dressing.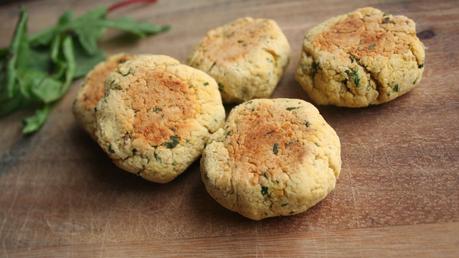 Ingredients
(makes approximately 8-10 balls)
1 1/2 cup cooked garbanzo beans (chickpeas)
1 tablespoon olive oil 
1-2 clove garlic depending on taste
3-4 sprigs chives or 1/4 chopped onion
1/2 lemon juiced
1/4 cup chopped fresh parsley
1 teaspoon cumin
1 1/2 teaspoon coriander or 1/4 cup fresh cilantro
1/2 teaspoon sea salt
cayenne pepper to taste
Directions
Preheat oven to 400 F.
Combine all ingredients in a food processor and grind into a thick meal or dough.  Set in fridge for an hour to bring combine the flavours. (Optional)
Roll into ball and flatten a little.  Place on baking sheet.
Bake in oven for 30 minutes flipping once in between.