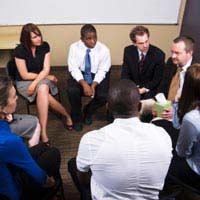 Hi.  My name is Vernon.  But I'm not an alcoholic.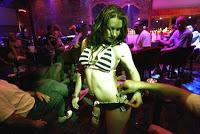 I fasted from alcohol and sex.
My life was finally starting to have true substance.  I was in church twice a week and going to an Alcoholics Anonymous meeting once a week.  I had to attend 1-2 A.A. meetings a week as part of my court sentencing.  At the time, I really didn't take the meetings serious because I didn't think I was an alcoholic.  I would tell them that I wasn't an alcoholic at the meetings too.  Especially since during this time of my life, I wasn't drinking.  I was so set on pleasing God that I let go of a lot of things.  I fasted away from my vices and ended up going 8 months with no alcohol or sex.  I think it was safe to say that I had an addiction to women as well.  I had been in a number of sex-based relationships and one-night stands and it was in my best interest to discontinue that type of lifestyle.  I stayed out of the strip club because it served as a place that housed both of my main vices, alcohol
and
women.  I met a man who specialized in Christian counseling that introduced me to a men's prayer group called Brother's I.N.C. (Incorporated in Christ).  They 
met once a week and discussed how to use God's word to overcome everyday 
struggles
.  
I ended up taking on the position of a Youth Recruiter for the group for about a year.  
I frequented hotels and slowly began to leave my Christian lifestyle.
This was all fine and dandy but I caught myself wanting to have fun after so much time.  My idea of fun was still alcohol and women so I thought I would try it again, only wiser this time.  I got my chance when I met this woman who was unhappily married (if you want to know why I would consider a married woman watch the movie How to be a Player) that told me that she wanted to go out with me.  She said she wanted to get a hotel room, drink and have sex.  This was sweet music to my ears because it was exactly what I was looking for at the time.  A relaxing environment, moderate alcohol consumption and sex.  It's not that I didn't enjoy Christian fun, it was just that I was always around males- seeing I was fasting from sex and in an all-male Christian group - and was getting tired of the "sausage fest".  It was about that time for me to be layed up with an attractive, perfume scented, soft skinned, well-proportioned female.  I figured God would understand; hell, he created them.  On top of that he created me with the urge to be sexually attracted to them.  I gave myself every validation for my sin.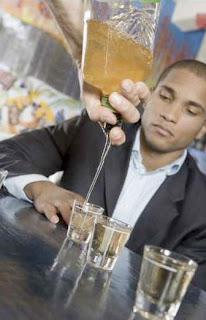 I loved the taste of a strong drink.
I kept resorting back to my vices.
At first, I began drinking again in moderation.  I don't really remember how it felt to take another drink after 8 months of sobriety, but I do remember it feeling good.  I had missed the taste and the instant effect that it gave me.  That was the thing about me, I liked the "taste" of alcohol.  There was nothing like a strong drink - straight or well-chased - to make my face flinch and give my body a little shiver.  I just thought that was so cool; to be able to take a drink that someone else couldn't handle and to look at them like they were a rookie. Or to be finished with my drink while my buddies weren't even half way done with theirs and to tell them they were babysitting.  Along with the relationship, I started hanging out with friends who drank and started stopping by the strip club here and there.  I met more women along the way and started relationships with many of them.  With the majority of them, our relationship revolved around sex and alcohol.  I didn't realize it then, but my vices had completely taken over again.
After a while, I began to feel so bad about my 
conscious
 sin that I stopped praying as much and didn't even want to go to church.  I didn't want to pray because I felt so bad that I didn't even want to be in God's presence.  I didn't want to go to church because I felt like a hypocrite, seeing that I would be out partying on a Saturday night and in church praising the Lord on Sunday morning.   I remember going to church hungover a couple of times and validating it by saying, "God would rather me be in church hungover than to not be in church at all."  
This went on for quite some time until I had a wake up call after being involved in a bar fight.