I am over the moon about this one. My dear friend from business school (eons ago) – and one of the most thoughtful guys I know, Kevin, is sharing his tale of backpack hunting. He had me laughing out loud as I read through his words, so I hope you all enjoy this as much as I did.
Take it away, Kevin!
*
I'm very excited that I'm going to be popping my backpacking cherry! Sure, I've been on trips before, but they have been very focused on camping, canoeing, snowboarding and North American tourist locations. Nothing wrong with any of that, but my girlfriend and I decided to subject ourselves to one another on a two week trip to Peru in November.
We booked relatively last minute (about a month before departure) and have been running around to get everything done before then. In addition to shots, flights, a passport renewal (my bad) and all the other necessary reservations, I'm in need of a backpack.
To some of you more experienced travelers this may not seem like a big deal, but to an inexperienced over-thinker it's been the most stressful part of the trip, thus far. While some of you may rush to give me advice please know it's appreciated, but everything I've read, got from friends and have been told by sales people has seemed to contradict more than clarify. Well-meaning as they all are.
So let's go through my week-long process of purchasing a backpack.
Day 1
It started with excitement and anticipation. I was about to purchase a fairly important tool for the journey I'm about to take.
I flipped open the lid of my laptop, opened up Google Chrome and immediately searched "mountain equipment coop", opened another tab and searched "cabela's". Up to this point I was feeling good about myself.
After spending about an hour sifting through both online stores, reading reviews, watching videos, and creeping the Facebook photos of my traveler friends I was sufficiently stressed. What's hiking vs. traveling? How many litres are my pants? Where's the "Easy" button?
Oh well, tomorrow's another day.
Day 2
Today I was seeing friends that have done some traveling and specifically this trip. I knew they would be of help! After speaking with them I had a very good idea about what I would be needing for what I was doing.
Until the very relevant question was asked: What else do you think you'll use the bag for?
Well, that blew things out of the water. It was fairly clear I could get away with a relatively small pack for this trip, but what were my future plans? Did I want to get more into canoeing / hiking? Would this finally be the year for the Euro-trip that has been long eluding my lady and I? Basically where else do I think I'm going to go for the lifetime of this pack?
Day 3
Armed with this question I went and narrowed down my search. I decided that I wanted something mid-sized with a detachable daypack and eventually settled on a nice looking 55L, that could be expanded by 10 more litres and had a 15L detachable daypack. Perfect.
Day 4
Today is the day! After work I made the trek to MEC and marched to the backpack section. I took a little time browsing and then found my chosen pack. Cool grey, detachable daypack, great harnesses and support, a pretty yellow flower… a what?
Turns out that the backpack that I found was a lady pack. I asked the salesperson what it really meant to be a "women's" backpack? If it was just a little smaller I could take the flower off and be fine with it.
The very helpful MEC employee went on to describe how the straps are designed with breast comfort in mind, and how there is consideration for the contours of a woman's hips. I'm not usually like this, but the description was enough for me to feel sufficiently emasculated for even asking and I quickly moved on.
With my plan now blown wide-open I was determined not the make this shopping trip a waste. I spent the next little while with a sales rep going over everything and eventually settled on the "man" version of my original choice. Which is a whopping 20L larger!
That night the girlfriend and I went shopping for hiking boots (I've bought those before and knew what I was going for, phew). It was good times and I walked (get it?) away happy.
Upon getting home I took a long, hard look at the backpack and started laying out the clothes and other things I was thinking of taking. Quickly I realized that my new backpack was much too large.
Or was it?
After hours of spec comparison and video watching, I went to bed having talked myself into the backpack again. All was well and good.
Day 5
I woke up, got ready and left the house for a breakfast meeting. Once I got out of the meeting I decided to text my GF. "I hate my backpack."
Her response: "I know." She knows me so well.
It's not a bad bag, it's a bad bag for me. The quick pros and cons list:
Pros: comfortable, detachable daypack, option to stow away backpack straps for plane travel

Cons: too large for my immediate and likely future needs, on the heavier side (3.2kg)
Back to the internet we go…
Day 6
I put my backpack in the trunk and set out for work. Once the day was done I made the walk back to MEC, with my ill-purchased bag and a new frontrunner.
This time I decided that I wanted something lighter and smaller. More of a multi-day hiking pack than a straight up travel bag. After abandoning the need to have a detachable daypack, the options opened right up again. This time, though, size was on my mind.
Upon entering the store I took my return to the till and handed it to the same person I bought the bag from a couple days before. "Didn't stick?" he asked with a grin.
After a while handling the merchandise, I had a new bag picked out. Lighter than the last one, more of a hiking style and a cool 60L. Back to the same cashier, who inquired about how I felt about this one. I responded with, "See you tomorrow," and left.
Day 7
After spending a night and a day examining and reexamining the bag, I know I've found the one I want. It's a size that's a bit more "me" and I like a number of the features. The one tricky thing is that I won't know how well it works on a trip until it's in the field, so to speak, and by then the decision is final.
Right now I'm feeling good and no backpack, no matter how ill-fitting, is going to make or break the trip. With that hurdle overcome, I guess all that's left is to pack…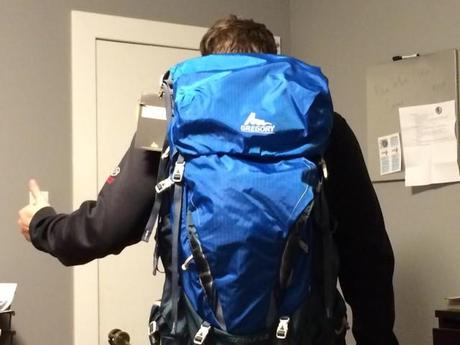 Epilogue
I just want to say that everyone at MEC was very helpful with all my crazy questions. It was a great experience… every time I was in there.
_______________________________________________________________________________
For more of Kevin's musings and ramblings on business, politics or whatever other shenanigans he comes up with, head to his blog right now! He is one of the greatest guys I know, so you should check him out and say hi!
As for me, like me on Facebook, and follow me on twitter and Instagram too.