Sort of.
If you're wondering why you haven't seen my annoying face in about a week, my life has been quite busy lately. Another story for a different post. But yes, things are a changin'. In a good way. Oh yeah, I should clarify- my life has been busy in a good way (still stressful, but good).
After about 2 weeks with minimal running (and mostly cross training), I think I'm ready to get back to business. An amazing race with a shiny new PR left me a) mentally exhausted from running and b) ready to chase a new PR.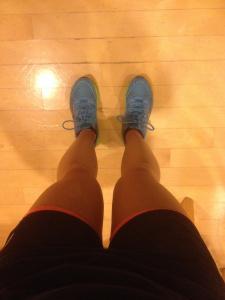 2 weeks off (mostly) from running was just what I needed. Day 1 during that 2 week hiatus- running sounded like something you would make your kid do if they snuck out of the house, went to a party, and got drunk. And you would make them do it with a hangover. #imgoingtobeanawesomemom
We're now at the end of that time frame (haven't been keeping track really so it could have been 3 months for all I know) and I'm itching to pound the pavement.
New goal: sub 1:55 half marathon (8:46-ish pace. Yikes! That's fast for this turtle.)
At first I wasn't going to put "sub" in there. Then I realized I tend to doubt myself.
New approach: Be more positive. Be more confident. You CAN do this. Train hard and you WILL see results. But you need to believe in yourself.
Also, more strength training. Now this is still just a theory that I need to test out, but I think my body might do better with less "easy" runs. By this I mean, I would eliminate 1 easy run/week and swap it with strength/cross training.
Previously: 3 easy runs, 2 hard runs, 1 day cross, 1 day rest
Possible new training plan: 2 easy runs, 2 hard runs, 1-2 days cross/strength, 1-2 days rest
A part of me thinks that the only reason I want to switch things up is because I miss strength training. Kyle and I used to lift weights at the gym 5 days a week (and I never ran). I kind of miss it. But I do think this might work.
I'm going to keep things flexible and find out what works well for me. In the past, I used training programs and felt like I had to stick to them. Now I think I'm getting to know my body better and how it likes to train. Can frozen yogurt count as training?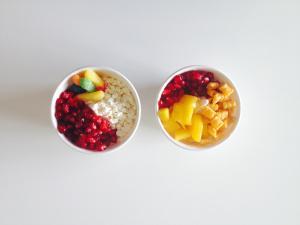 We'll see if this works. If not, it doesn't really matter cause I'm not training for anything in particular.
Catch me up on your lives!! I will be catching up on blog reading this weekend :)
What is your current running goal?
How much strength training do you do? What do you think your body responds to?