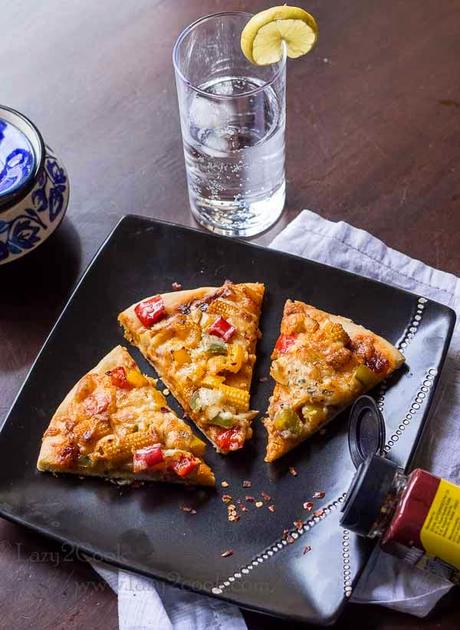 Sunday is most probably baking day for me. Because I could try something different from regular menu. And my love towards baking is increasing day by day. I am just loving this ..especially when something (cake or pizza) is baking inside my oven , very nice aroma starts coming in home. Mostly we get such smell near bakeries. I have a small bakery in my home ;-)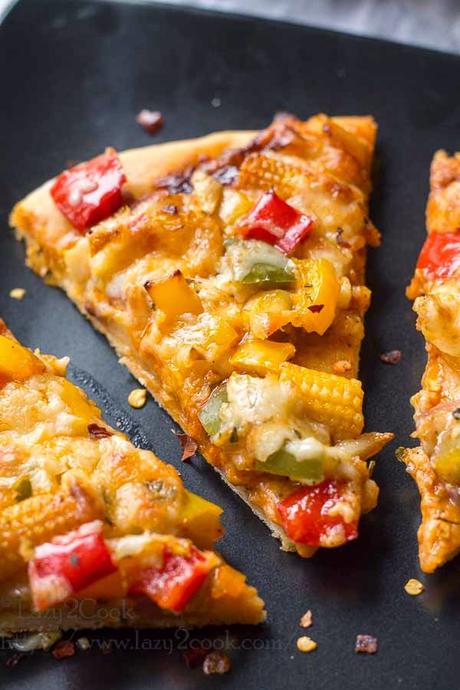 Today I baked a Dates and Walnut cake for my niece, so I did not stop there and made pizza for us in Lunch. I had baby corn, red, yellow and green pepper in my fridge. These veggies are just perfect for pizza recipe. I have made Veggie Pizza last time. I use them for pasta also. My husband is not great fan of pasta, but I am. Whenever hubby is not for lunch or dinner, that time is dedicated for pasta. Ooopps I am talking about pizza here, yeah I have made Baby corn and Capsicum Pizza.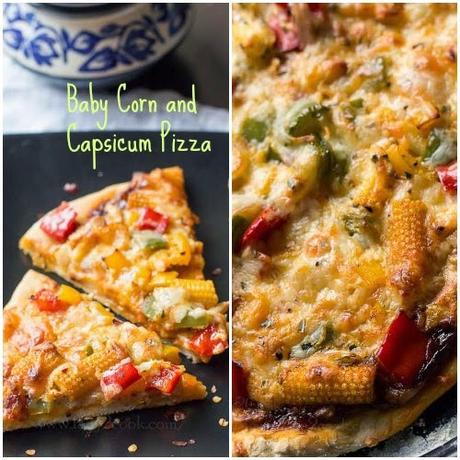 I have Pizza Sauce from store, so I used that. But sometimes, I do cook homemade Basil Pizza sauce also. Or if nothing is there, we could always use Tomato Ketchup. We all love Baby corn and Capsicum Pizza with Sprite ;-) and lots of chili flakes on it.
1 and 1/2 cups All purpose flour/Maida
1 tbsp Active dry yeast
1/4 cup Water
1/2 tbsp. Sugar
3/4 tsp. Salt
2 tbsp Olive oil
4 tbsp Pizza Sauce
4 tbsp yellow, red and green Capsicum, chopped in squares
1/4 cup baby corn
1/4 cup grated mozzarella cheese
1/4 tsp. Oregano
1/4 tsp. Chili Flakes
1.Boil 1/2 cup water in pan and keep it aside. When it become lukewarm, add yeast and sugar. Let this mixture sit for some 10-15 minutes. The active yeast will start bubbling up in some time, means it is ready to add in flour mixture.

2.In a bowl, put flour and add salt, oil and yeast mixture. Mix this with flour nicely.

3.Use lukewarm water little by little to make a dough. Keep aside for 3-4 hours, so yeast will act on mixture and dough will become double in size.

4.After 4 hours, take a raised dough and put it on greased baking tray. Roll the dough till circular sides of tray with hand or roller.(I prefer hand.)
5.Preheat oven 210 deg c for 10 min.

6.Spread pizza Sauce on the base of pizza. Then, put grated mozzarella cheese on pizza sauce and then put all veggies. I have used Baby corn and colored capsicum. Add grated cheese above these veggies also.

7.Bake it in oven on 210 deg c for 15-20 minutes. Check if the base turns golden brown, that means it is done. Many ovens have different settings, so it may take little more time also. Check in between for pizza base's color and veggies should be little brown.

8.After removing from oven, put oregano and chili flakes. Cut pizza with knife or cutter and Enjoy Baby Corn and Capsicum Pizza.