My name is Amy Marie & I blog on behalf of the online boutique Scarlett Fashion. The lovely Kelsey has kindly allowed me to guest post on her blog today and I hope you enjoy the post I'm sharing.
With the change of season always comes with some new fashion trend. This year the big one on all fashion fan's lips is tartan. Whether you love it or hate it, there is no denying it's everywhere. I don't believe it's been as big since the late seventies/early eighties when my own mom was a huge fan. She even joked as I met her from work while wearing my tartan smock dress that perhaps she should dig out her old tartan cigarette trousers she wore when she was a Bay City Rollers fan. I have to admit, I've always had a taste for the tartan, this probably comes from having a Scottish father who would wear his kilt at any and all opportunities. I also live in the Scottish Borders, tartan is readily available to us all the time.
Today I thought i'd share with you a post on how to wear tartan. I know some people find tartan a bit like the summer neon trend, how on earth do you wear it? I've put together a couple of outfits that although they're incorporating tartan, they are quite understated. Which is great if you don't want to stand out of the crowd too much but still want to be right on trend. One is a simple day time outfit, and one is a classy evening outfit.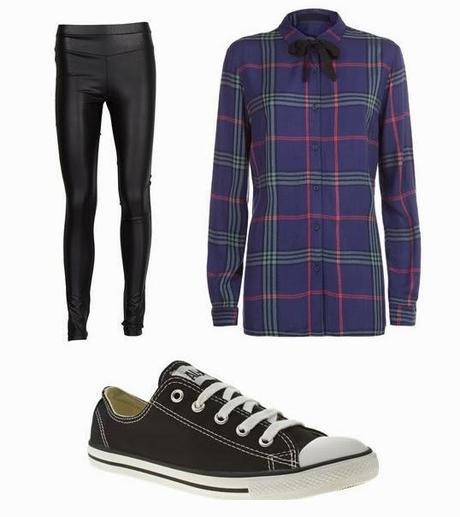 In my opinion, the best way to wear tartan during the day is as a blouse. You don't need to always go for the brazen red, there is a fantastic selection of different coloured tartans available on the high street at the moment, from green to black and white to my personal favourite, blue. This blue blouse is available in Primark, I especially love the little bow around the neck. I'm pretty sure it RRPs for around the £13 mark. I've teamed it with a fantastic pair of Wet Look Leggings (RRP £18.39, Scarlett Fashion). I know these are usually an evening thing but I love wet look leggings during the day, they give any outfit a bit more of an edge and I find them super comfy (except when you sit on a leather sofa!). The shinier the better! Finally, when it comes to day time wearing with footwear, I always go for the comfier the better. Converses are a staple whatever the season and black goes with everything. These Converse Dainty Low Tops (RRP £42, Schuh) really complete the outfit.
Now, onto wearing tartan in the evening.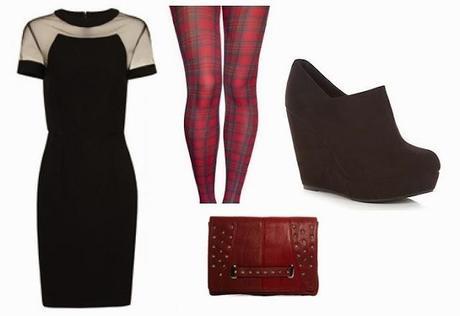 If you don't want to dive straight in with a full tartan dress, I 100% recommend going for tartan tights instead. These Red Tartan Tights are a complete steal (RRP £4.99, Amazon) and will look great against the simplicity of the good ol' LBD. The dress i've chosen is the Mesh Panel Black Bodycon Dress by Paper Dolls (RRP £45, Scarlett Fashion). The mesh panels really go with the grungy/punk look that tartan is associated with. The simple style of the dress really appeals to me, I especially like the sleeves, the mesh is flattering to anyone (like me) who happens to have bigger top arms. The shoes happen to be my favorite part of the outfit. They're from New Look which in my opinion has the best selection of shoes on the high street and at a great price. These Shoe Boots (RRP £19.99) will look wonderful with the tights/dress combo. Finally, no evening outfit is complete without a statement bag. I really like this Red Studded Clutch by Religion (RRP £50, ASOS) the red of the clutch will really tie in the with tights. I think the studs on it are punk without turning the whole outfit punk. 
As you can see, I've kept both the outfits simple so the tartan pieces are what really draws the eyes however neither on their own are especially over the top. I really like this way of wearing patterned pieces as sometimes too much can be a bit of a headache, unless you style them right of course!
Will you be wearing tartan this season?

Thankyou so much for this post amy, i must admit i am abit scared to try tartan but that tartan top with those wet look leggings look amazing!