Ladies and Gentlemen, I am home! That's right, I am back in Australia and so excited to get settled back into a routine with my blogging as I was before I set off on my travels to the UK just over a year ago.
Of course one of the first things I did was head into my local Priceline store to have a stickybeak at all the new product launches I had missed over the past year from our lovely Australian cosmetic brands or brands that I couldn't buy in the UK. I behaved myself and kept my hands in my pockets and out of my purse but I naturally came up with a wish list of things I want to get my makeup obsessed paws on.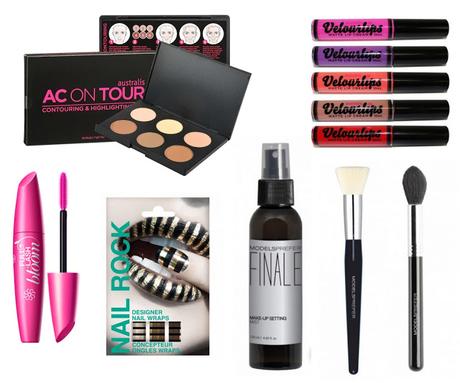 Australis AC on Tour Kit - $16.95 // Australis Velourlips Matte Lip Cream - $10.49 // Covergirl Full Lash Bloom Mascara - $17.95  // Models Prefer Finale Make-up Setting Mist - $14.99 // Rock Beauty Nail Rock Wraps - $5.50 //Models Prefer Professional Airbrush Buffing Brush - $18.99 
// Models Prefer Dual Purpose 103 Highlighter & Contour Brush - $18.99
Do you own or have you tried any of these products? What should I purchase and what should I pass on?