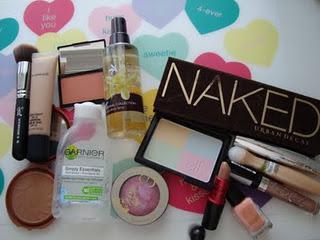 These are all my favs from August
NAKED 
palette 
I love this palette its well worth the money i use it everyday you can do so many looks with it.
MAC studio sculpt foundation
im in the color NW20 this foundation gives me great coverage as i get alot of redness.
Sleek blush in rose gold
this blush is great gives a lovely gold pink sheen and 
apparently its a good dupe for NARS orgasm 
Natural collection body spray
i love this my favorite is vanilla i love it i would spray it all over my house :0)
MAC viva glam gaga II
This is the perfect nude for me i love MAC lipsticks they smell yummy
ELF complexion powder
this is a good setting powder and its great for my skin tone
Sigma flat top kabuki
this is the best brush ive used to put on foundation everyone should own one of these
MUA extreme curl mascara
ive been using this everyday its great at holding the curl in my lashes
Garnier everyday eye makeup remover
this is really affordable and takes off mascara and eyeliner even waterproof it doesnt sting my eyes either
Garnier tinted eye roll on
great for under eye circles and really cooling i use this everyday as well
Barry M peach melba
i love this color it looks great on tanned skin
Accessorize blush in wowzer
great color gives a pinky purple sheen
NYC bronzer in sunny
this is a great contour color and its matte which i love
Rimmel vinyl gloss in born to bling
this is the perfect gloss to go over my fave MAC lipstick
What are your favourates? i love  reading them.