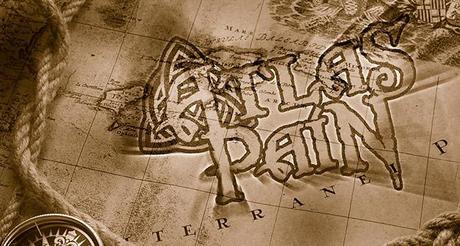 Hey, Metal fans! I'm going to introduce today a new fantastic Italian Metal band from Milan called Atlas Pain. From what I've heard so far, these guys are in my opinion a great new promise of Epic Symphonic Folk Metal with a highly recommend sound, if we define in their own words, Atlas Pain is an "Epic Symphonic Mega Fuckin Folk Metal" band, oh yeah! I totally agree, of course. I really love their sound, they are working hard to release an EP soon and no doubt that I will pay attention to all their news.
Atlas Pain was born on May 2013 when Samuele Faulisi (Vocals, Rhythm Guitar, Keyboards, FX) left many other musical projects to focus his work in a new adventure which was called Atlas Pain. Samuele began to look for band mates to give life to this new project and develop the fantastic Atlas Pain's universe.
He found soon to Federico Cotzia that between jazz, ethnic music and brutalbass, started to work hard for Atlas Pain project. Luca Ferrari on lead guitar and Marco Contini on drums have completed the line-up of the band creating an interesting four horsemen's group full of energy and force to develop the amazing Atlas Pain's sound.
At this moment these guys are planning to release an EP, in which they are working hard and I hope we will have the pleasure to listen to it soon. Meanwhile we can enjoy two fantastic tracks, "Once Upon A Time" and "Annwn's Gate", which are a great sample of the amazing and epic Atlas Pain's sound.
ATLAS PAIN – Annwn's Gate (VIDEO)
by MetalWind
Pay attention to these Italian guys and don't miss Atlas Pain, I really think it's a great new band and I am absolutely convinced that the new EP in which they are working will be a great release.
I also leave you a little medley from some of the best soundtracks ever, entitled "Foreign Lands" and released on October 2013 by Atlas Pain, it's really a very cool track. Enjoy and leave your comments!
I send greetings to Atlas Pain, fantastic work, guys! I will pay attention to your new EP! See you soon!
Follow Atlas Pain:
http://atlaspainofficial.wix.com/atlaspain
https://www.facebook.com/AtlasPain
https://twitter.com/AtlasPainBand
http://www.youtube.com/atlaspainofficial