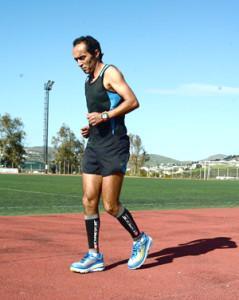 Mohamed Saoute – winner of the Athens International Ultramarathon Festival 24 hour race 2015
The Athens International Ultramarathon Festival 2015 drew to a close this afternoon with Nikitas Nomikos securing his second victory in the 6 day race with 650 km. Jaques Morel from France took second place and only woman, third overall, was German walker Martina Hausmann with 517 km.
In the 72 hour, Simon Schmid who led from the start was finally caught with less than three hours to go by Dimitris Besyris who 134 km on the final day to snatch the win. Ladies winner was Annabel Hepworth from Australia.
The 48 hour race saw Alexandros Afentoulidis take the top spot with 342 km. Michalis Maipas was second  with 232 km and first lady, third overall was Scotland's Lorna Maclean with 227 km.
The 24 hour race was a little more closely contested with Mohamed Saoute putting in a steady climb to first position finally passing Nikos Sideridis who finished third, just after the 18 hour point. Saoute's excellent performance is the third best of the year so far. Christine Kioureli was the only female entrant and pulled out early on at 67 km.
Athens International Ultramarathon Festival 2015 – Final Results
Pos Name Gender Nat Km
6 Day Race
1 Nikitas Nomikos M GRE 650
2 Jacques Morel M FRA 566
3 Martina Hausmann F GER 517
4 Drazen Jovicic M BIH 478
5 Stefan Mack M GER 453
6 Jaroslav Pruckner M CZK 436
7 Walter Zimmerman M GER 90
72 Hour Race
1 Dimitris Besyris M GRE 411
2 Simon Schmid M CHE 403
3 Nikos Thanos M GRE 379
4 Panagiotis Kalogiros M GRE 330
5 Spenser Lane M GBR 324
6 Annabel Hepworth F AUS 284
7 John Mclean M GBR 280
8 Panagiotis Kaldis M GRE 211
48 Hour Race
1 Alexandros Afentoulidis M GRE 342
2 Michalis Maipas M GRE 232
3 Lorna Maclean F GBR 227
4 Giorgos Louloudas M GRE 208
5 Christos Dimopoulos M GRE 187
6 Anagnostis Kokonias M GRE 150
7 Christos Kanellos M GRE 150
8 Denis Konovalov M RUS 140
24 Hour Race (Top Ten)
1 Mohamed Saoute M MOR 247
2 Christos Mavrikios M GRE 241
3 Nikos Sideridis M GRE 220
4 Paul Gilbert-Corderoy M GBR 202
5 Antonio Tallarita M ITA 190
6 Spiros Pappas M GRE 186
7 George Panos M GRE 180
8 Ioannis Papamichail M GRE 169
9 Adam Chatzis M GRE 163
10 Alexandros Tsekouras M GRE 157
18 Christine Kioureli F GRE 67
Full results available on the race website.
Website: www.dayrunners.gr
Facebook: Athens Ultramarathon Festival
Related articles across the web
Athens International Ultramarathon Festival 2015 – 120 Hour Updates
From Multidays.com, post Athens International Ultramarathon Festival 2015 – Final Results