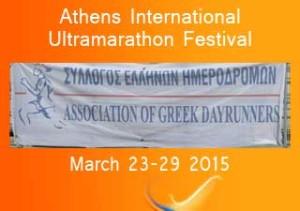 The Athens International Ultramarathon Festival 2015 has entered its final day and all four events are underway with the 24 hour being the last to start today.
Nikitas Nomikos has continued to extend his lead in the 6 day over Jacques Morel.
Simon Schmid has a 26 km cushion in the 72 hour, his longest event to date, over last years 48 hour winner Dimitris Besyris. John Maclean from Scotland lies in 4th place.
John's wife Lorna, the only woman in the 48 hour, is lying in third place in a race being dominated by Alexandros Afentoulidis.
The 24 hour is led by Christos Mavrikios, two time winner of the Panellinios 100 km Road Race.
Pos Name Gender Nat Km
6 Day Race After 5 Days
1 Nikitas Nomikos M GRE 551
2 Jacques Morel M FRA 498
3 Martina Hausmann F GER 434
4 Stefan Mack M GER 388
5 Jaroslav Pruckner M CZK 375
6 Drazen Jovicic M BIH 372
7 Walter Zimmerman M GER 90
72 Hour Race After 53 hours
1 Simon Schmid M SUI 330
2 Dimitris Besyris M GRE 304
3 Nikos Thanos M GRE 283
4 John Mclean M GBR 271
5 Panagiotis Kalogiros M GRE 253
6 Spenser Lane M GBR 242
7 Annabel Hepworth F AUS 211
8 Panagiotis Kaldis M GRE 178
48 Hour Race After 28 hours
1 Alexandros Afentoulidis M GRE 228
2 Michalis Maipas M GRE 163
3 Lorna Maclean F GBR 151
4 Anagnostis Kokonias M GRE 150
5 Christos Dimopoulos M GRE 133
6 Denis Konovalov M RUS 132
7 Giorgos Louloudas M GRE 129
8 Christos Kanellos M GRE 122
24 Hour Race After 5 hours (Top Ten
1 Christos Mavrikios M GRE 63
2 Nikos Sideridis M GRE 62
3 Antonio Tallarita M ITA 55
4 Georgios Tassios M GRE 54
5 Eusebio Bochons M ESP 53
6 Mohamed Saoute M MOR 53
7 George Panos M GRE 52
8 Paul Gilbert-Corderoy M GBR 52
9 Stefanos Papadopoulos M GRE 50
10 Tasos Tsiolakis M GRE 49
18 Christine Kioureli F GRE 45
From Multidays.com, post Athens International Ultramarathon Festival 2015 – 120 Hour Updates