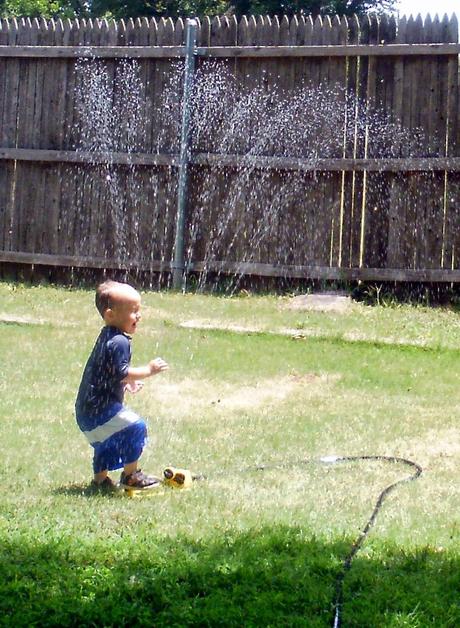 Our Little Speed Racer
How do you wear out an incredibly active 2 year old? In the summer, a sprinkler seems to do the trick. We put Little Speed Racer in his new swim outfit and set up a sprinkler in the back yard. He wasn't too sure at first, but then it was all splashing and fun. When the fun was done and he was all dried off it was time for a big nap.
That meant I had time to cook a big late lunch/early dinner. I like to make these big meals on Sunday and have them just late enough to count as both lunch and dinner (Linner). Then we can have something light in the evening. I'd do this every day if I didn't have to do things like work. But when we win the lottery we'll totally have Linner most days.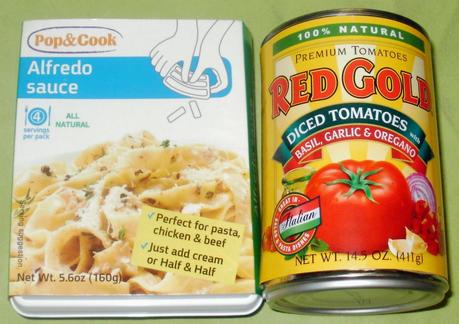 Red Gold with Pop & Cook


I really enjoy cooking Italian food and my husband enjoys eating it. This dish combines some of my favorite ingredients. Red Gold sent me a Summer Grillen' Pack with some cans of their products. Today, I used Red Gold Basil, Garlic and Oregano Diced Tomatoes in the Pink Sauce. I added it to another product that I've wanted to try for a while, Pop and Cook Alfredo Sauce.
I hope you enjoy this dish whenever you eat it. Some people mix pasta with sauce when it's ready but I don't. Not everyone likes the same amount of sauce on their pasta. I'm pretty particular about how much is on mine. So, I tend to keep my pasta, sauce, and vegetables separate and let everyone determine what and how much to put on their plate.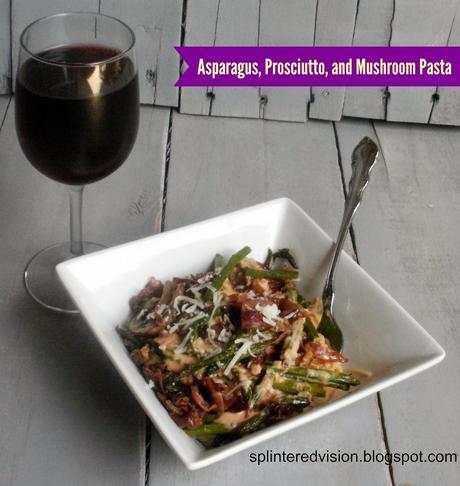 Asparagus, Prosciutto, and Mushroom Pasta with Pink Sauce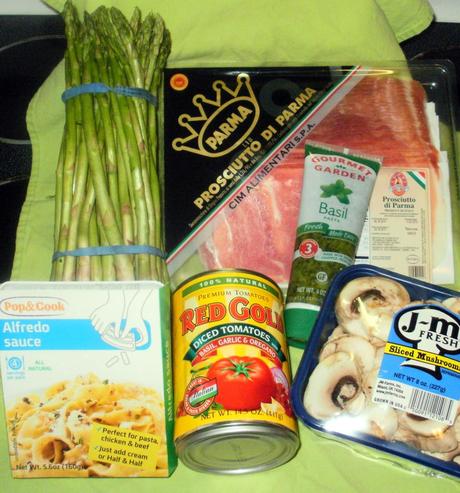 1/2 lb. (8 oz.) uncooked pasta (I used angel hair)
About 10 strips of Prosciutto shredded
1 bunch of fresh asparagus with ends trimmed and cut into 2-inch pieces
1 (8 oz.) package of sliced mushrooms
Pink Sauce
1 Package of Pop and Cook Alfredo Sauce
1 and ¼ cup of Heavy Cream
1 can of Red Gold Basil, Garlic and Oregano Diced Tomatoes
1 Tablespoon of Basil Paste
1/2 cup grated or flaked Parmesan cheese
Cook the pasta in a large pot of salted water with a little olive oil according to package instructions. Drain and set aside.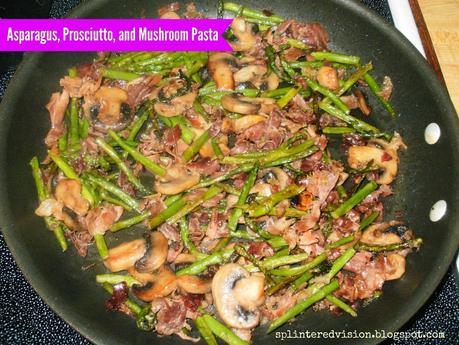 Meanwhile, add about a tablespoon of olive oil to a large pan and add the shredded prosciutto. Cook over medium-high heat, stirring occasionally, until it begins to render a little fat.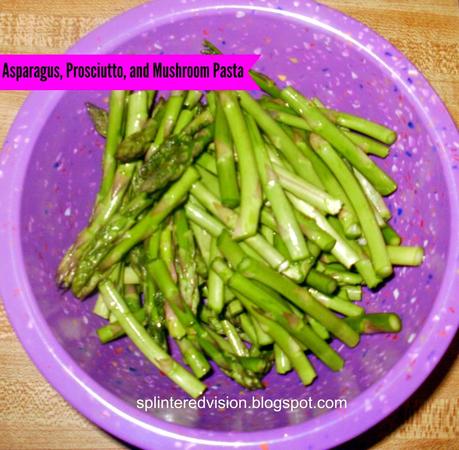 Add prepared asparagus and mushrooms to the pan. Add some more olive oil if it seems too dry and cook with a lid on the pan until the mushrooms and asparagus begin to soften. Stir occasionally, and when it seems softened remove the lid to allow the mushrooms and asparagus to brown. Remove the pan from the heat.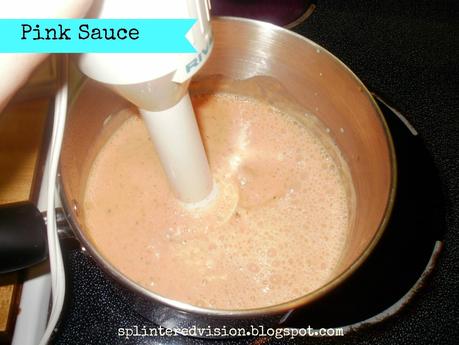 In a medium sauce pan add all 4 cubes from the Pop and Cook Alfredo Sauce and the heavy cream. Bring to a boil as directed on the package. Remove from the heat. Drain the juice from the Red Gold Basil, Garlic and Oregano Diced Tomatoes and add them to the alfredo sauce. Add the additional basil paste. Blend using an immersion blender until the sauce is smooth. Place back on the head and add in the grated parmesan. Whisk the sauce over the heat until the cheese is melted and the sauce is mixed together well. Remove from the heat and let sit for a few moments.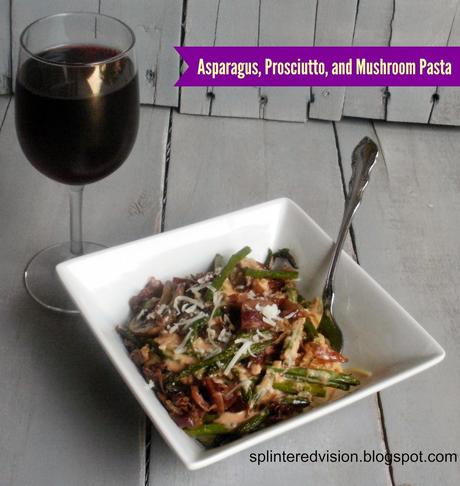 Place the cooked pasta on a plate or in a bowl. Ladle sauce over the pasta and them place the prosciutto, asparagus, and mushrooms on top. Sprinkle a little parmesan on to it, if you desire. I don't add any salt to the sauce because the prosciutto is already salty.
You can serve this dish with a big hunk of Italian bread or garlic bread for dipping in the pink sauce. A glass of red wine goes nicely, too.