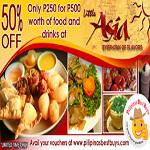 Have a taste of Asia under one roof for culinary extraordinaire at 50% OFF! Refine your taste buds with Asia's finest cuisine. From Chinese to Thai to Korean to Japanese to Filipino to Malay to Indian cuisine, dance to Little Asia's symphony of flavor orchestrating your savor. =)
Click here to grab this opportunity!
The dishes in Little Asia represent dedication to freshness. Similar to the cultures they represent, each dish is colorful, rich in flavor and character, and carefully prepared for the customers' complete dining pleasure. It provides a good mixture of gastronomical dishes that are authentic and not just imitated from recipes already existing in the local market.
Let your friends know and all together go yum yum yummmm!
Only P250 for P500 worth of all the scrumptious meals at Little Asia!
Grab them now!