As much as I sometimes wish I'd taken art, graphics or interior design at uni, I didn't … and although my dreams haven't been completely crushed, when I was told about this fab new competition by Valspar I had to share to hopefully make someone else's dreams come true!
To celebrate its UK launch, American paint brand, Valspar, is calling to all budding interior designers to enter the Valspar Young Interior Designer of the Year Competition.
Valspar is searching for interior design students who are fearless with color and can help revolutionise the way the nation chooses paint for their homes.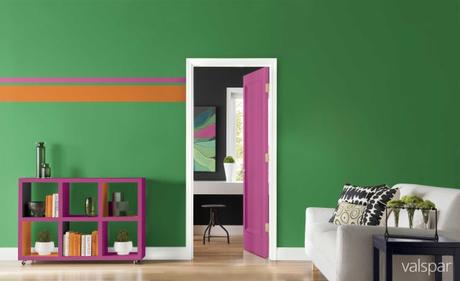 You could win the following AMAZING prizes (Not just one!):
The opportunity to work with award winning designers- such as Will Taylor from Bright Bazaar, and top interior stylist Marianne Cotterill
The winner's work will be showcased in Livingetc magazine
Plus £5,000 towards their student fees, or to invest in their budding career in interior design
All you have to do:
 Submit a mood board re-designing the interior of a residential living room
The brief for this competition is broad; however the central theme is 'inspiring with colour'.
You are given dimensions and a budget for your plans too.
And here are the judges:
Interiors author, journalist and blogger, Will Taylor from http://www.Brightbazaarblog.com
Claire Cullen, Brand Manager and trends spokesperson for Valspar Europe
Dame Zandra Rhodes, celebrated British Fashion icon and Chancellor of the University of Creative Arts
Lindsey Rendall, Chair of the Student Committee of the British Institute of Interior Design
Marianne Cotterill, Stylist from Livingetc magazine
Who is eligible for the Young Interior Designer of the Year competition?
All Interior Design students or Interior Design graduates, who have graduated in the last 2 years, are eligible to enter the Valspar Young Interior Designer of the Year awards. Entrants must have studied or be studying an interior design course at a recognised UK Design School or University.
To download the competition brief, read the T&Cs and enter the Valspar Young Interior Designer of the Year Competition, please visit http://www.valsparpaint.co.uk/youngdesigner
Good luck all!
Chloe xx
*This is not a sponsored post – Views on the competition are my own.