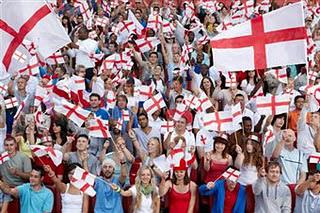 What they are about
Being beaten 6-1 against Australia after the Ashes triumph didn't come as a surprise. At a time when many one-dayers seem meaningless, the team which has undervalued this format for years, certainly does so after soaking themselves in Ashes glory. By the loss which resembles the one day series lost at home after Ashes '09 (that too, 6-1 apparently) more than anything else, England are indicating to the ECB and ACB about the need to change schedule. People need not be explained why they lost. They have just, done it again. This isn't the first time England didn't care about what happened. Moving on...
Prior to the World Cup
Marred by injuries, England are set to try their luck at the World Cup, once again. Do the English have more hope this time than the previous cups? Of course they do. Having beaten Australia 3-2 (July '10), South Africa 2-1 (Dec '09) and Pakistan 3-2 (Sep '10), England come in with confidence. In the past few months, there's been news of someone getting injured in the England camp every now and then. The most notable is that of Eoin Morgan, who has played a big role in England's transformation into one of the best sides in one day. He, along with Swann and Broad deserve much of the praise that has been garnered on England in the past 2 years. Now that Swann is cleared for drunk-driving, playing superman to save his cat, apparently, England won't begin their campaign without him. But he hasn't been with the team for quite a while. He was in the long list of injuries, which prompted the media to wonder whether England will run out of men and if 42 year old Andy Flower will entertain us again, this time wearing the three lions badge.
Kevin Pietersen as opener?
Flower is the strategist of the side and being his unpredictable self, he has made Kevin Pietersen open. This is a ploy which could lift England's spirits and make them fearless. Or it could sink them deeper. But knowing the showman Kevin Pietersen, I know he'll make it work. The guy loves challenges, his world revolves around him, he gets all the attention and he loves it that way. He knows a lot will be expected and he is not among those who succumb under pressure.
The squad
Looks promising, talented, some big players. Paul Collingwood's spirit seems to be fading though his bowling still delivers. Michael Yardy is only 'handy' and Luke Wright continues to disappoint. Should have opted for Alastair Cook, who was the best man in the Ashes, performs better under pressure, never disappointed in one-day. Steven Davies and Craig Kieswetter could have also been given a chance. England showed faith in Kieswetter but then dumped him in such a way that it seems like they are not going to consider him any time soon. But that is most appropriate for Owais Shah, who is 32, ECB and Middlesex seem to have forgotten him, perhaps forever. Stuart Broad is someone who can perform anywhere. His earlier performances in Asia suggest, he could be the bowler of the tournament.